Exploring Use of Real World Evidence in Clinical Trials: A Recap from the 2016 Blueprint for Breakthrough Forum
This year marked the 5th annual Alexandria Summit and Friends of Cancer Research Blueprint for Breakthrough Forum, with this year's focus being the potential utility of Real World Evidence (RWE) in clinical trials. There were three panels that explored the topic in great detail with an opening keynote by FDA Commissioner, Dr. Robert Califf. In advance of the event, a whitepaper created by a multi-stakeholder working group was distributed to conference attendees. The paper aimed to build consensus in three areas: identifying relevant disease and drug candidates in oncology as potential use cases; developing regulatory strategies for optimal use of RWE in oncology; and outlining potential opportunities to pilot studies in oncology to be used for clinical evidence generation and support regulatory decisions.
With many technological advances in healthcare data capture, storage, and access – including data on patient demographics, standardized laboratory tests, and pathology reports – new opportunities for information collection have been created. These novel sources of evidence can be potentially used to generate new hypotheses, validate previous findings, and support regulatory decisions for labeling supplements (e.g., expansion of indications and safety updates) and fulfillment of post-marketing requirements and commitments, making this year's forum an important and timely one.
In Dr. Califf's opening keynote, he stressed the need for more work to be done in clinical trials. Acknowledging the improvement in use and quality of electronic health records (EHRs), Dr. Califf stated that the key for clinical trials and real world evidence is that a better job needs to be done of matching the data type and method to create efficiency without sacrificing the established standards of evidence. He concluded by discussing the National Cancer Moonshot Initiative and how it is a great opportunity for the field of oncology. He further emphasized that the need for sharing information across domains is vital so that researchers, doctors, and regulators can better work together to create the best possible treatments for patients.
"The ultimate goal is to help patients with unmet needs. Let's make sure we use the data for the right purposes to help them." – Dr. Califf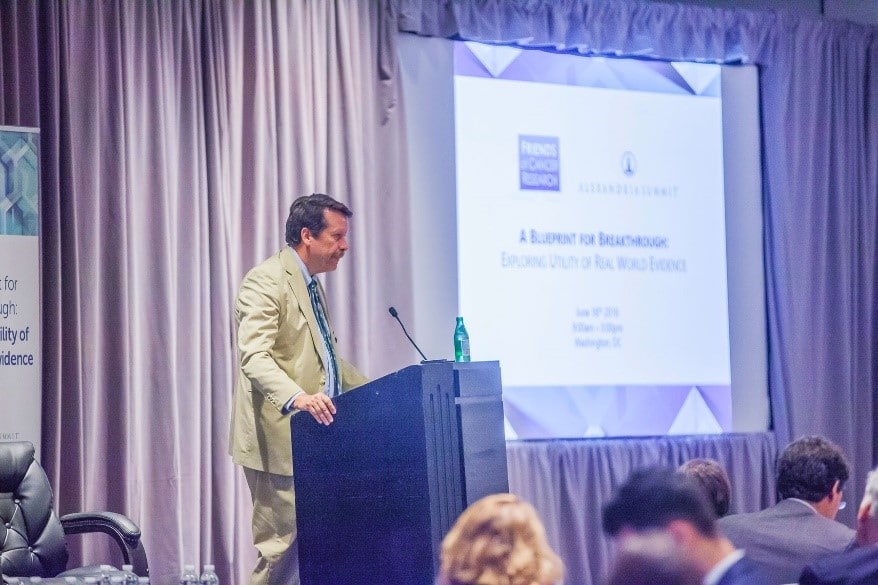 Dr. Califf opened the 2016 Blueprint for Breakthrough Forum at the JW Marriott on June 16, 2016
The first panel, moderated by Dr. Amy Abernethy with Flatiron Health, included panelists Dr. Allen Melemed with Eli Lilly and Company, Dr. Maria Koehler with Pfizer Oncology, Dr. Sean Khozin with the FDA, and Dr. Jane Perlmutter with the Gemini Group. The panel discussed their proposal and goals for use of RWE with the intent of answering specific clinical questions and, when appropriate, informing product labels.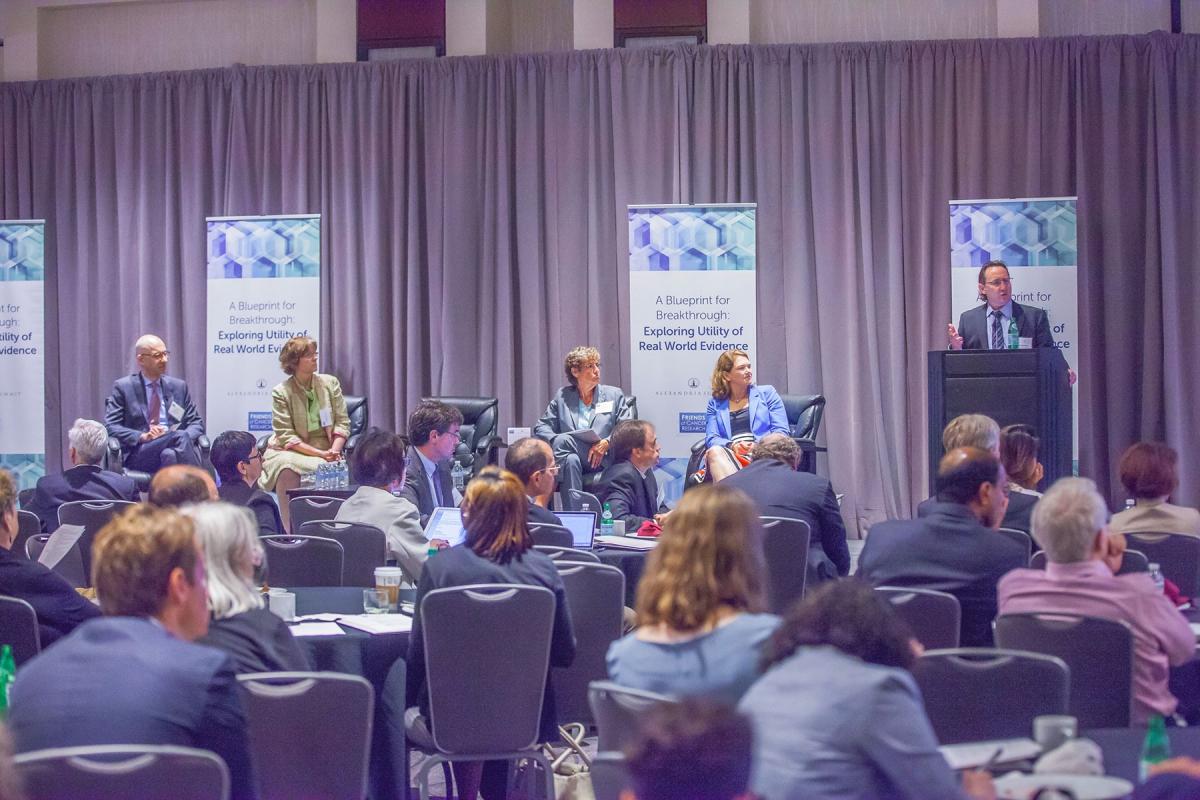 Panel 1 presents during the 5th Annual Blueprint for Breakthrough Forum
"Patients' don't have the luxury of patience – if we continue doing it [clinical trials] the way we are too many patients will die in the process; real world evidence can help." – Dr. Perlmutter
As part of their whitepaper, panel one described five potential uses of RWE:
Expanding the safety profiles of a therapeutic
Identifying populations with enhanced benefit/risk for an already approved therapy to inform clinical practice
Piloting studies to determine the potential correlation between feasible real world measures (such as time to treatment switching) and more traditional clinical trial endpoints (such as time to progression)
Building evidence for a supplemental package to expand the indication profile for a therapeutic
Supporting efficacy results observed in a clinical trial setting, particularly in areas of unmet medical need, when a new drug shows substantial clinical benefit. Real world studies that are able to support the preliminary magnitude of effectiveness in a larger cohort may be sufficient to serve as post-market confirmation of clinical benefit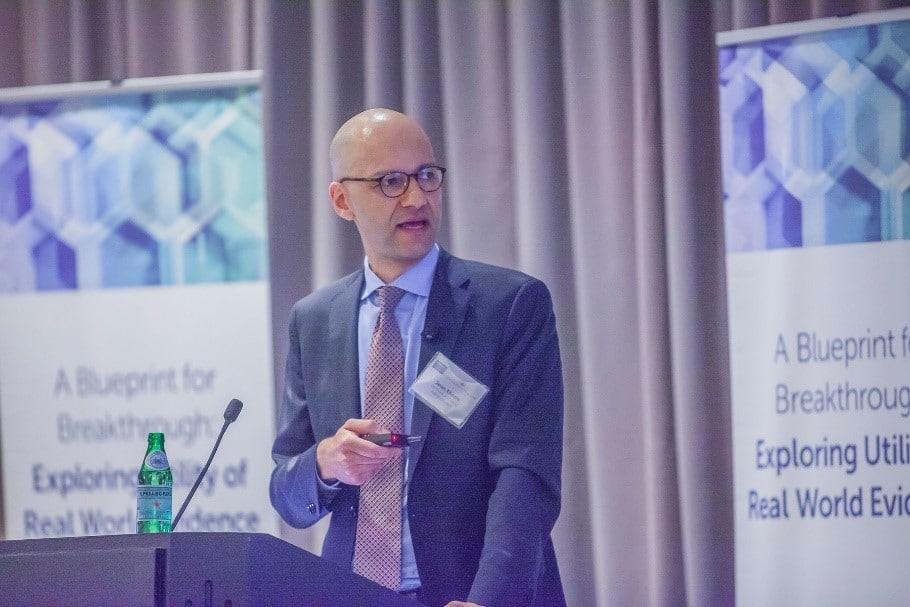 "For the most part we have ignored what really happens between a doctor and patient at the point of care, and missing data could be an issue in a lot of cases." – Dr. Khozin
"7 years is too long to wait – patients need help now." – Dr. Melemed
During panel one's discussion, Dr. Khozin noted the need to include software developers into the conversations on including RWE in clinical trials. He stated, "As a community we need to start the dialogue on the data points that are important."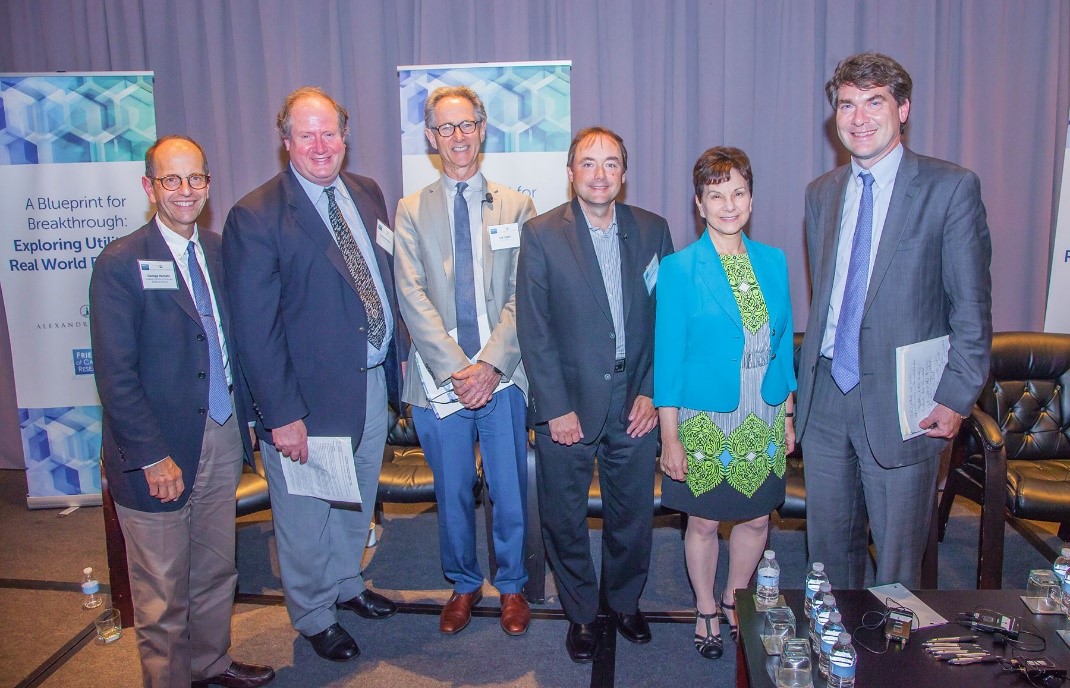 Panelists from the second panel (L-R: Dr. George Demetri, Dr. Roy Beveridge,
Dr. Joe Selby, Dr. Jeff Helterbrand, Dr. Janet Woodcock, and Michael McCaughan
Panel two included insight from Dr. Janet Woodcock, CDER Director at FDA, Dr. George Demetri with the Ludwig Center at Harvard Medical School, Dr. Jeff Helterbrand with Genentech, a Roche Company, Dr. Roy Beveridge with Humana, Dr. Joe Selby from PCORI, and Michael McCaughan from Prevision Policy, who moderated the panel. The conversation centered on policy implications from utilizing RWE in clinical trials. The issues discussed ranged from identifying the correct target populations for a development program; different dimensions involved in properly using the trial data from a payer's, sponsor's, and patient's viewpoint; and the necessity of collaboration.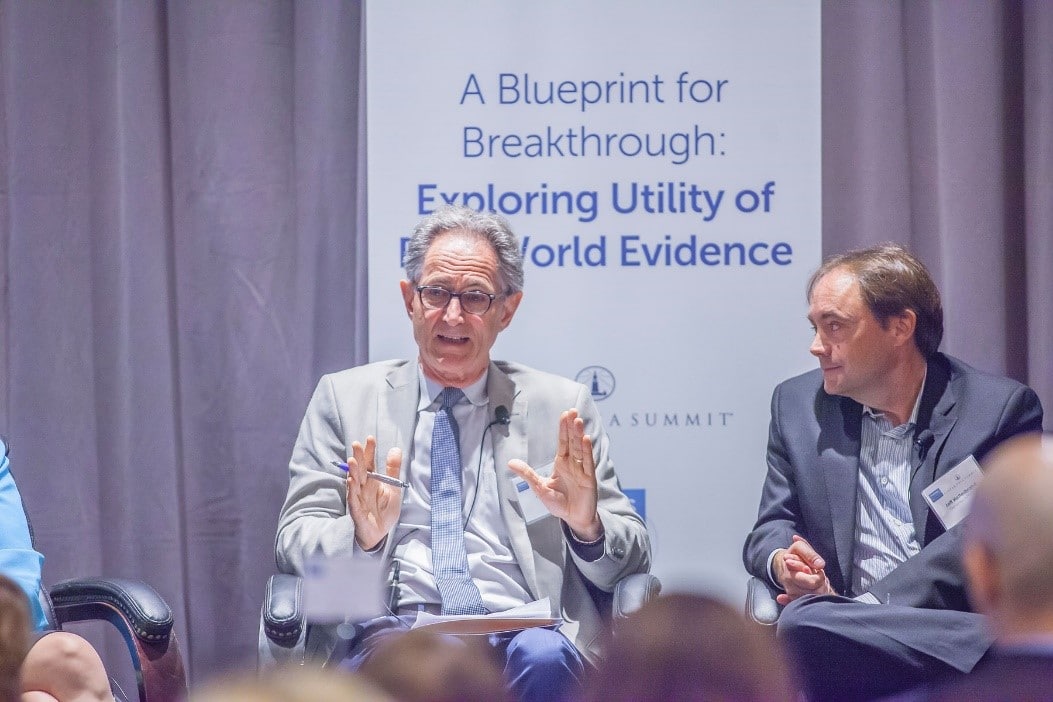 "Real world trials are an important part of real world data." – Dr. Selby
"15% of the total drug spent will be on specialty drugs in the next couple of years; 50% of total approximate of specialty drugs will be spent on 2%." – Dr. Beveridge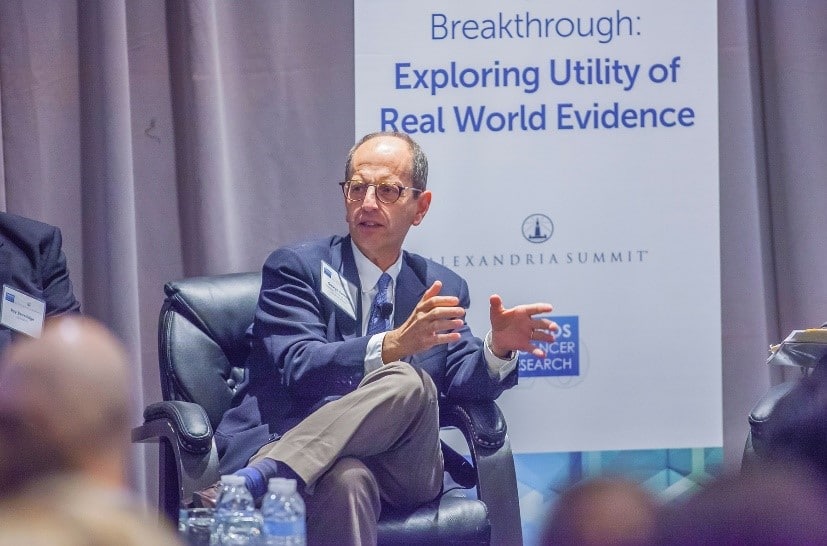 "Need to design trials patients want, we often design studies we want." – Dr. Demetri
Dr. Amy Abernethy led the panel three discussion by detailing a Flatiron Health project focused on developing real world endpoints extracted from real world data registries. Dr. Richard Pazdur from FDA and Dr. Eric Rubin from Merck joined the conversation following the presentation. Dr. Abernethy described objectives for developing clinically relevant real world endpoints and outlined a case study for real world progression. Flatiron's data was sourced from information routinely captured in electronic health records and included radiographic, pathologic, and clinical assessments. Overall, they found multiple approaches to defining real world progression are possible, including clinician-confirmed events, radiology-based events, or both.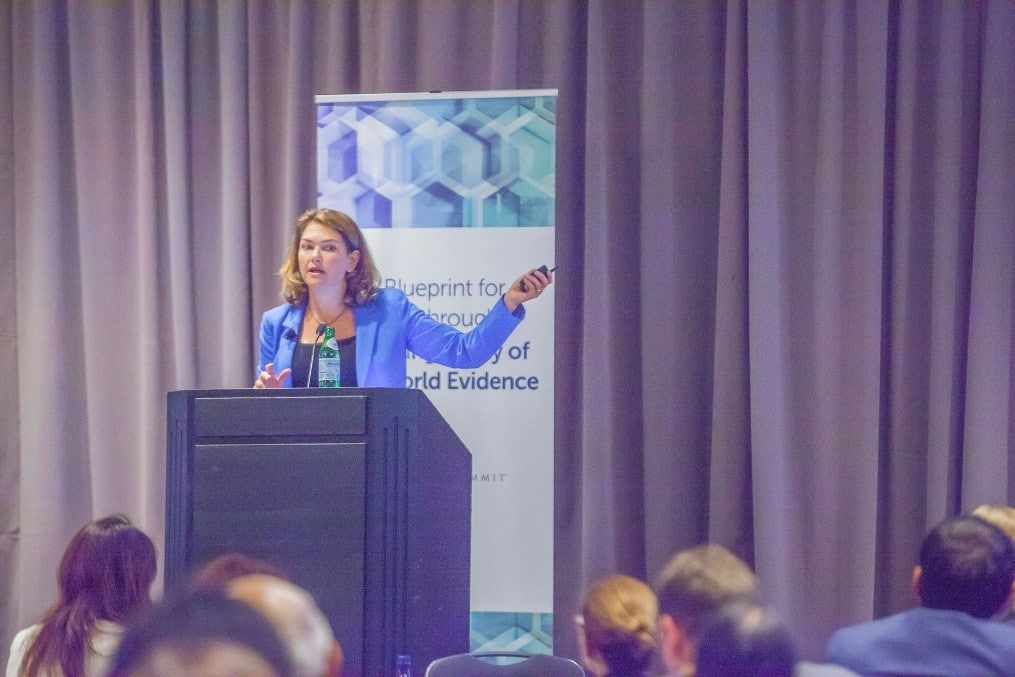 "90% of the time in patients with progression, clinician and radiologists confirmed events agreed." – Dr. Abernethy
These study results were well received by participants, who encouraged further development and validation of real world data. Ultimately, Dr. Pazdur stated that three things should be considered for incorporating RWE:
The patient and their perspective
Overall survival
Response rate
"What's really important is what's going on in the real world." – Dr. Pazdur
This year's forum showed open communication and a willingness to share data and collaborate to find the right solutions for patients. All participating panelists agreed that in order to incorporate RWE into clinical trials, different groups need to work together in order to ensure data is of high quality and appropriately captured, and that the endpoints used are clinically significant and agreed upon.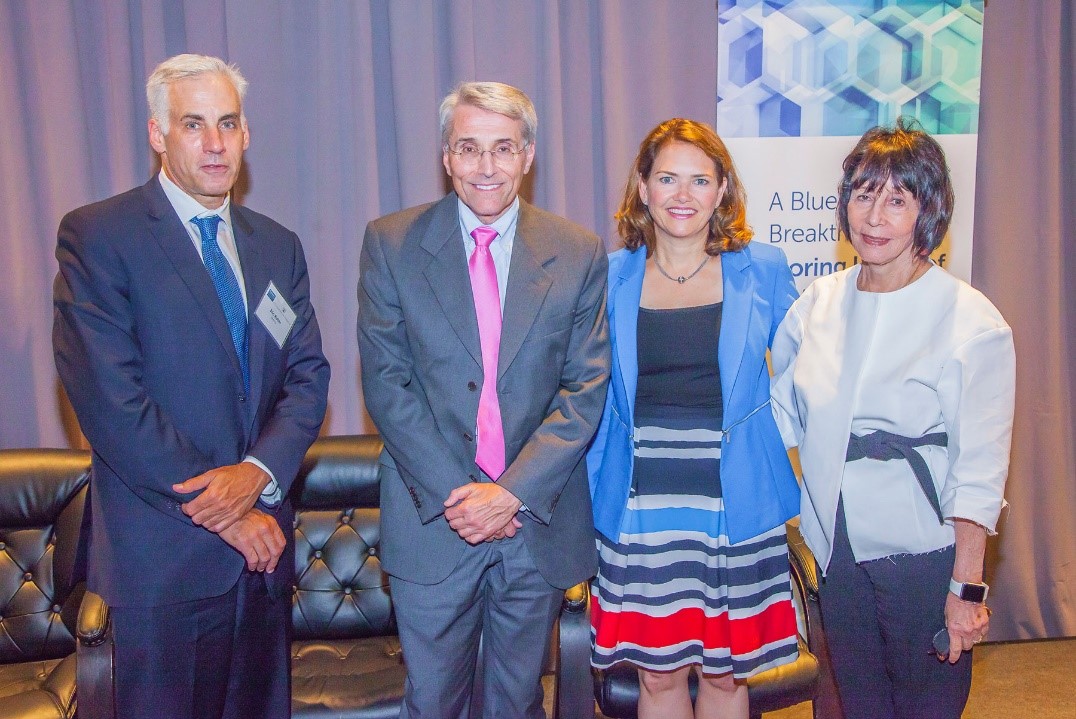 Panel 3 with Friends' founder (L-R: Dr. Eric Rubin, Dr. Richard Pazdur, Dr. Amy Abernethy, Dr. Ellen Sigal)
To download the full whitepaper report released at the conference click HERE.
To view the panel 1 conference slides, click HERE.
To view the panel 3 conference slides, click HERE.
Press: