In the three years since the FDA launched its breakthrough therapy program,1 the designation has become a coveted status for emerging agents as biopharmaceutical companies scramble to make their mark in an increasing competitive environment.

The program is aimed at facilitating the development of treatments that have the potential to be transformative for patients, which has proved to be a major challenge under the traditional clinical trial paradigm.

As the oncology community looks forward to a new year of drug discovery, OncologyLive spoke to advocacy groups, drug industry experts, and healthcare providers to gain insights on this important designation and its potential to transform the future of cancer care.
Ushering in the Breakthrough Designation
Historically, development of new drug products required completion of three distinct clinical trial phases: (1) a small phase I study to determine safety, tolerability, and dosing; (2) a larger phase II study to determine preliminary efficacy and tolerability; and (3) one or more phase III studies comprising hundreds to thousands of patients to more definitely demonstrate efficacy and tolerability.2 On average, this clinical development process can take anywhere between 7 and 12 years.2,3

"Because molecularly targeted therapies are directed toward patients with a specific genetic alteration, it may be a relatively small number who are predicted to benefit from them. In rare genetic subsets, and particularly for patients who have few, if any, effective treatment options, the traditional lengthy drug development paradigm does not work well for patients or drug manufacturers," said Jeff Allen, PhD, executive director, Friends of Cancer Research, a nonprofit cancer research advocacy organization based in Washington, DC, in an interview with OncologyLive.

Table 1. Summary of FDA's Expedited Drug Approval Programs for Serious and Life-Threatening Conditions*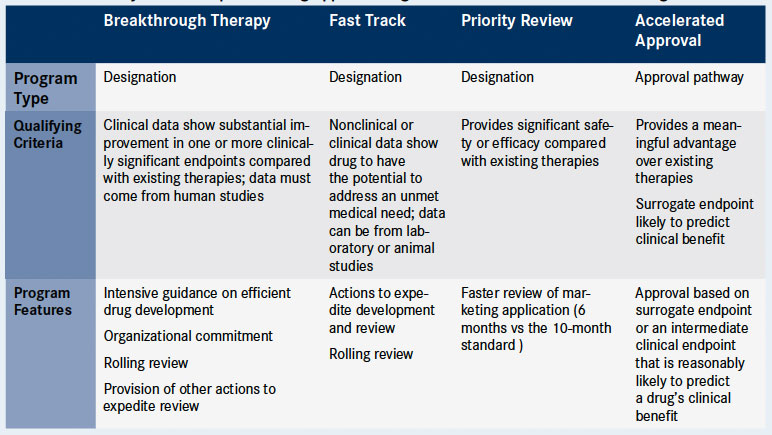 *This table is based on the expedited drug approval criteria outlined by the FDA and several other US health agencies.5 These programs make certain actions available to drug sponsors to further more rapid drug development. Many drug development programs qualify for and apply to more than one of these programs.
"By condensing the multiphase pathways for such treatments that show remarkable early clinical data, such as by basing drug approval on large treatment effects in smaller phase studies or by measuring intermediate endpoints, we can more rapidly provide sick patients with better treatment options," he said.
In November 2011, Friends of Cancer Research published a white paper in collaboration with the Brookings Institute that outlined new drug development pathways for treatments that show large treatment effects early on in clinical development. 4 Around the same time, the FDA indicated that it had set a goal to identify ways to expedite drug development for exceptional new drugs.4 "Leveraging the FDA's goals and our work with partners in all sectors, in just 13 months we took 'breakthrough' from concept to a program in full use by the FDA to expedite approval of potentially transformative treatments," said Allen. The breakthrough designation became part of the FDA Safety and Innovation Act of 2012, which was signed into law on July 9, 2012.1 This new designation added a fourth program to the FDA's expedited drug development program (Table 1).5

During its first year of implementation, 29 breakthrough designations were granted, with some drugs gaining the status for more than one indication.6 Then on November 1, 2013, the first drug with a breakthrough designation received full FDA approval.6 The drug, obinutuzumab (Gazyva), was approved for use in combination with chlorambucil in patients with previously untreated chronic lymphocytic leukemia (CLL).7 The time between receiving the designation and full approval was just 5.5 months.6

Approval was based on the results of a randomized, multicenter study that included 356 patients with previously untreated CLL who received obinutuzumab in combination with chlorambucil versus chlorambucil alone. Participants who received the obinutuzumab/chlorambucil combination had a significant improvement in progression-free survival (PFS) compared with those receiving chlorambucil monotherapy, with an average PFS of 23 months versus 11.1 months, respectively. 
As of December 9, 2015, 36 breakthrough-designated drugs have been approved by the FDA, with 17 approvals being for novel drugs.6 According to Friends of Cancer Research, almost half of all breakthrough designations have been in oncology (Figure).6
Breakthrough Front in 2015
As of mid-December, a total of 18 breakthrough designations for cancer drugs were thus far announced for 2015 (Table 2).6 Among them are new drug candidates, including targeted therapies and immunotherapies for several different cancer types, as well as new and expanded indications for several existing drug products.

Nivolumab (Opdivo), an immune checkpoint inhibitor that targets programmed death-1 (PD-1), has received four breakthrough therapy designations since May 2014. The drug has received full FDA approval in three tumor types: (1) advanced squamous and nonsquamous non–small cell lung cancer (NSCLC) that has stopped responding to chemotherapy;8 (2) advanced renal cell carcinoma (RCC) that has metastasized or grown following antiangiogenic therapy;9 and (3) BRAF V600 wildtype unresectable or metastatic melanoma, either as a single agent or in combination with ipilimumab (Yervoy), a human cytotoxic T-lymphocyte antigen 4-blocking antibody.10
Figure. Breakthrough designations by therapeutic category.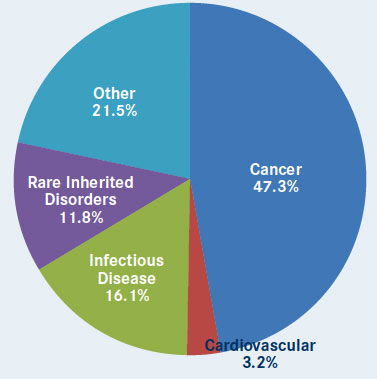 In late 2014, it was also approved as a new treatment for patients with unresectable or advanced melanoma that has stopped responding to other drugs.11 This approval came more than 3 months ahead of the scheduled date of March 30, 2015.12
"We have been very pleased with our ability to work closely with the FDA to bring new and important treatment options, such as Opdivo, to patients as quickly and safely as possible," said Michael Giordano, MD, senior vice president and head of oncology development, Bristol-Myers Squibb, in an interview with OncologyLive.

"As the first PD-1 inhibitor approved for advanced RCC, Opdivo provides oncologists with a completely new treatment option that has the potential to provide patients with an unprecedented survival advantage compared with a standard of care, and this is now the third tumor type for which Opdivo has shown an overall survival [OS] benefit in a phase III trial, demonstrating the potential of immunotherapies to benefit patients across a wide range of tumors," he said.

In the setting of advanced RCC, nivolumab's survival benefit was shown in CheckMate-025, an open-label, randomized study that included 821 patients and compared nivolumab with everolimus, a mammalian target of rapamycin inhibitor. 9 Patients who received nivolumab had an average OS of 25 months after starting treatment compared with 19.6 months for those receiving everolimus. The survival benefit was independent of the level of PD-L1 expression of patients' RCCs.

Additionally, 21.5% of nivolumab-treated patients had complete or partial shrinkage of their tumors, lasting an average of 23 months. In contrast, only 3.9% of patients receiving everolimus experienced complete or partial tumor shrinkage, which lasted an average of 13.7 months.9

"The approval of immune checkpoint inhibitors for the treatment of multiple tumor types is, in my opinion, this year's biggest story," said Howard A. "Skip" Burris III, MD, president of clinical operations and chief medical officer for Sarah Cannon in an interview with Oncology Live. "After decades of attempting to harness the immune system to fight cancer, the scientific breakthroughs leading to these reasonably well-tolerated and effective therapies have forever altered our perspective on what the future will bring."

Numerous agents that received a breakthrough designation in 2013 and 2014 were also approved in 2015. These include ibrutinib (Imbruvica) for Waldenström macroglobulinemia, palbociclib (Ibrance) for advanced breast cancer in postmenopausal women, pembrolizumab (Keytruda) and Tagrisso (osimertinib) for NSCLC, and daratumumab (Darzalex) for multiple myeloma.6

Burris expects approvals across numerous cancer types to continue next year. "Almost every type of cancer has a promising therapy either in late-stage development or with remarkable early-phase results. Multiple more indications will be added to the list of approved immunotherapies and several mutationally targeted small molecules should be on the fast track to approval," he said.

Overcoming Breakthrough Challenges
Despite the breakthrough program's numerous successes, there have also been many anticipated and unanticipated challenges. In April 2015, the Brookings Institute convened a meeting to examine these challenges. The consensus was that the program is viewed favorably overall by drug companies, researchers, advocates, and others, but that some key issues need to be resolved to improve its success rate.13

Meeting participants noted a lack of understanding of the qualifying criteria by drug sponsors as being a major challenge, reporting that fewer than 30% of current requests receive breakthrough designations.13 Reportedly, many requests are denied because data are missing or are of too low quality, which could partially stem from the FDA's lack of a clear threshold defining what constitutes a "substantial improvement over existing therapies."13

Table 2. Cancer Drugs Granted Breakthrough Therapy Designation Between January 1, 2015, and December 9, 2015*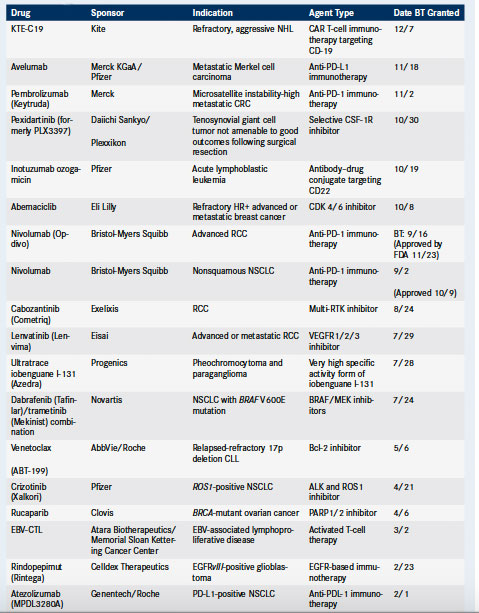 ALK indicates anaplastic lymphoma kinase; BT, breakthrough; CAR, chimeric antigen receptor; CDK, cyclin-dependent kinase; CRC, colorectal cancer; CSF-1R, colony stimulating factor-1 receptor; CTL, cytotoxic T lymphocytes; EBV, Epstein-Barr virus; EGFR, epidermal growth factor receptor; HR+, hormone-receptor-positive; NHL, non-Hodgkin lymphoma; NSCLC, non–small-cell lung cancer; PARP, poly ADP ribose polymerase; PD-1, programmed death-1; PDL-1, programmed death ligand-1; RCC, renal cell carcinoma; ROS1, = c-ros oncogene 1; RTK, receptor tyrosine kinase; VEGFR2, vascular endothelial growth factor receptor 2. *This table is based on information maintained by the Friends of Cancer Research.7 More cancer treatments may have received BT designation in 2015. Not all drug sponsors publicly announce receipt of a BT designation and the FDA does not disclose this information.
It has been suggested that a presubmission meeting between the FDA and drug sponsors might help lower the rate of rejections by providing clarity about necessary trial data, but there are concerns over the feasibility of such meetings because the FDA's resources are already being stretched thin by the highly collaborative approach of the program once a breakthrough designation is granted.2,13
Although a major goal of the breakthrough program is to expedite drug development so that patients receive more timely access to potentially life-saving treatments, it has been suggested that manufacturing will become the rate-limiting step in some breakthrough drug-development programs.2,14 This is because drug manufacturing processes, such as development of a final formulation and product scale-up, have to occur much more rapidly in expedited programs than those following traditional drug development paths.

"This is especially true for biologic products because of the added complexity specific to the manufacturing process of biologics," noted Kwok and colleagues in a recently published article in Clinical Therapeutics.3

Despite these and other challenges, the breakthrough designation program has fostered closer communication than ever before between drug sponsors and the FDA. This more collaborative environment has already facilitated the development of numerous transformative treatments for many different cancer types, with many more on the horizon.

It has also enabled anticipated and unanticipated challenges with the program to be more readily identified and addressed, paving the way for the program to become even more successful in accomplishing its ultimate mission of arming patients with safe yet more powerful weapons as they wage their personal war against cancer and other serious illnesses.

---
References
US Food and Drug Administration. Food and Drug Administration Safety and Innovation Act (FDASIA). http://www.fda.gov/RegulatoryInformation/ Legislation/SignificantAmendmentstotheFDCAct/ FDASIA/ucm20027187.htm. Updated October 6, 2015. Accessed December 6, 2015.
Kwok M, Foster T, Steinberg M. Expedited programs for serious conditions: an update on breakthrough therapy designation. Clin Ther. 2015;37(9):2104-2120.
California Biomedical Research Association. Fact sheet new drug development process. http://www.ca-biomed.org/pdf/media-kit/ fact-sheets/CBRADrugDevelop.pdf. Accessed December 6, 2015.
Fleming T, Sekeres M, Lieberman G, et al. Development paths for new drugs with large treatment effects seen early. /Panel4FINAL11411.pdf. Published November 2011. Accessed December 6, 2015.
US Department of Health and Human Services, US Food and Drug Administration, Center for Drug Evaluation and Research, Center for Biologics Evaluation and Research. Guidance for industry expedited programs for serious conditions—drugs and biologics. http://www. fda.gov/downloads/drugs/guidancecomplianceregulatoryinformation/ guidances/ucm358301.pdf. Published May 2014. Accessed December 6, 2015.
Friends of Cancer Research. Breakthrough therapies. http://www. focr.org/breakthrough-therapies. Updated December 1, 2015. Accessed December 6, 2015.
US Food and Drug Administration. FDA approves Gazyva for chronic lymphocytic leukemia. http://www.fda.gov/NewsEvents/Newsroom/ PressAnnouncements/ucm373209.htm. Published November 1, 2013. Accessed December 6, 2015.
Cancer Research Institute. Lung cancer. http://www.cancerresearch. org/cancer-immunotherapy/impacting-all-cancers/lung-cancer. Update September 25, 2015. Accessed December 6, 215.
Bristol-Myers Squibb receives FDA approval for Opdivo (nivolumab), the only treatment to deliver significant overall survival in advanced renal cell carcinoma vs. a standard of care, in patients who have received prior anti-angiogenic therapy [press release]. Princeton, NJ: Bristol-Myers Squibb; November 23, 2015. http://news.bms.com/ press-release/bristol-myers-squibb-receives-fda-approval-opdivo- nivolumab-only-treatment-deliver-sig. Accessed December 6, 2015.
Bristol-Myers Squibb announces U.S. Food and Drug Administration approval for Opdivo (nivolumab) as a single agent for the treatment of patients with previously untreated BRAF wild-type advanced melanoma [press release]. Princeton, NJ: Business Wire; November 24, 2015. http://www.businesswire.com/news/ home/20151124005365/en/Bristol-Myers-Squibb-Announces- U.S.-Food-Drug-Administration. Accessed December 6, 2015.
FDA approves Opdivo for advanced melanoma [press release]. Silver Spring, MD: US Food and Drug Administration; December 22, 2014. http://www.fda.gov/NewsEvents/Newsroom/PressAnnouncements/ ucm427716.htm. Accessed December 6, 2015.
Inman S. FDA approves nivolumab for advanced melanoma. http:// www.onclive.com/web-exclusives/FDA-Approves-Nivolumab– for-Advanced-Melanoma. Published December 22, 2014. Accessed December 10, 2015.
Daniel GW, Richardson E, Streit C. Event recap: lessons learned from two years of breakthrough therapy designation. http:// www.brookings.edu/blogs/health360/posts/2015/05/14-lessons– learned-breakthrough-therapy-designation-daniel. Published May 14, 2015. Accessed December 6, 2015.
Sherman RE, Li J, Shapley S, Robb M, Woodcock J. Expediting drug development–the FDA's new "breakthrough therapy" designation. N Engl J Med. 2013;369(20):1877-80. doi: 10.1056/NEJMp1311439.
http://www.onclive.com/publications/oncology-live/2016/january-2016/can…