Secretary Sebelius (HHS), Dr. Francis Collins (NIH) and Dr. Margaret Hamburg (FDA) join leadership from Academia, Government and Industry to discuss "The New Role of Academia in Drug Discovery and Development"
 
On July 6th, Friends of Cancer Research and The University of Kansas Cancer Center, in conjunction with the Kauffman Foundation, Kansas Bioscience Authority and the Council for American Medical Innovation, convened a symposium on "The New Role of Academia in Drug Discovery and Development: New Thinking, New Competencies, New Results and New Paradigms in Cancer Research." The symposium was held at the Kauffman Foundation Conference Center in Kansas City, Missouri.  The goal of the conference is to foster collaboration between academia, industry, government and patients to accelerate drug discovery and development in cancer research.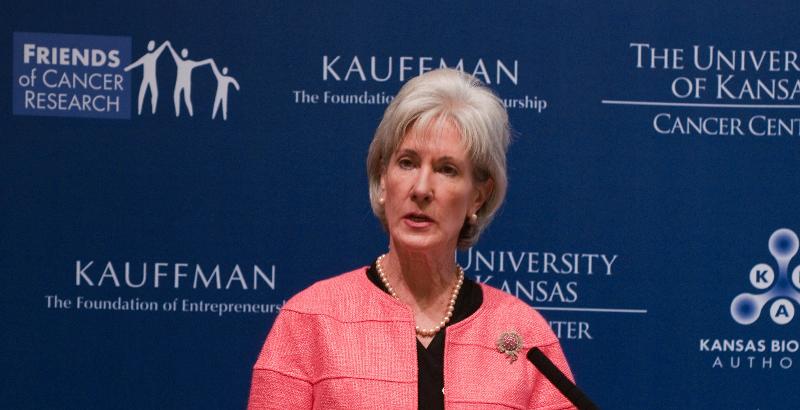 Sec. Sebelius Delivers Keynote Address
US Secretary of Health and Human Services Kathleen Sebeliusdelivered the keynote speech and stated, "we have no better partners than our academic centers" in research. She reiterated the Obama administration's commitment to science and emphasized that increasing research budgets alone is not enough; new partnerships are essential in order to achieve success with research dollars.  Recently established collaborations within the federal government to cultivate partnerships in drug discovery are the new FDA/NIH Leadership Council announced earlier this year, and the Cures Acceleration Network established as a part of the healthcare reform legislation.
To View the Secretary's Speech Click Here
During a special panel discussion moderated by former House Majority Leader Richard Gephardt, FDA Commissioner Dr. Margaret Hamburg, and NIH Director Dr. Francis Collins, discussed programs they are implementing to capitalize on the strengths of each agency in advancing medical research. Dr. Collins stated that government collaboration is just one vehicle, but it will require collaboration with academia and industry to develop new innovations. Dr. Hamburg said that there is a need to step and back evaluate the FDA's role in advancing biomedical research. She discussed the need for an emphasis on regulatory science, which has the ability to bring a cutting-edge scientific approach to safety and efficacy evaluations of new products. Dr. Hamburg told the audience that President Obama included money in the 2011 budget specifically targeted to advance regulatory science.
To View Dr. Collins and Dr. Hamburg's Discussion Click Here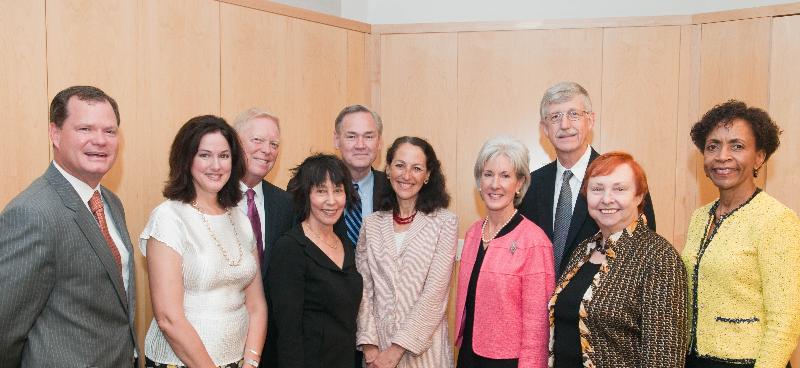 (L-R) Tom Thorton, Judy Baker, Cong. Richard Gephardt, Dr. Ellen Sigal, Cong. Dennis Moore, Dr. Margaret
Hamburg, Sec. Sebelius, Dr. Francis Collins, Dr. Barbara Atkinson, Chancellor Bernadette Gray-Little
 
The conference consisted of four panel discussions moderated by Reuters National Health Correspondent Lisa Richwine.  The first panel focused on a new way of thinking about how industry and academia can better collaborate to successfully and efficiently translate scientific discoveries into new therapies. The panelists emphasized that moving an idea from basic research into clinical study is becoming increasingly difficult. New ideas often languish due in part to scarce resources for early stage investment or a lack of expertise. The panelists agreed that a new model requires multi-disciplinary interaction at each step of the process to encourage the translation from basic science to clinical application.
 
The second panel focused on how new collaborations can aid in the development of new tools to evaluate medical products and establish best practices for commercial agents. Increased collaboration between academic centers and FDA could help support regulatory science programs and develop core competencies for product development.  Institutions with a specific area of expertise could serve as a "Center of Excellence" for routine interactions and research. Panelists also noted that the responsibilities of the FDA have increased while the resources have not.  The current model of academic promotion and publication system does not reward collaboration and in order for collaboration between FDA and academic centers to occur, this culture must change. There is a role for the NIH/academia/FDA in developing standards and templates to administer guidelines that can promote cooperation as opposed to starting from the beginning each time a partnership is formed.
 
The third panel explored how directed research can efficiently lead to new therapies. New models of providing economic capital are serving as conduits to finding the right partners to commercialize proof-of-concept finding with signs of success. One example highlighted a partnership with the University of Kansas Institute for Advancing Medical Innovation and the Leukemia & Lymphoma Society as a model for directed funding to bring promising new research to the patient. The panel emphasized the need for all partners to align towards common goals and the need to have the right people with the right expertise in place at all levels to accelerate drug delivery.
 
The final panel of the day discussed new policies that can help these collaborations thrive, such as increased federal support for these types of partnerships and new incentives for academic medicine. Panelists agreed that there is a need for academic administrators to be willing to support their faculty and create the infrastructure that is needed for this type of drug discovery research. It is critical for industry and academia to collaborate in order to deliver new biomedical innovations to patients.
 
As a product of the conference, the supporting organizations will be developing a post-conference white paper to describe the discussions and suggestions from the event and to outline the way forward to develop these vital collaborations in research.
 
Conference Participants:
 
Moderator: Lisa Richwine, National Health Correspondent, Thomson-Reuters
 
Panel 1: Roy Jensen, MD, The University of Kansas Cancer Center; Garry Neil, MD, Johnson & Johnson; Lesa Mitchell, Ewing Marion Kauffman Foundation; Chris Austen, MD, National Chemical Genomics Center, National Institutes of Health; Barbara Kunz, Battelle
 
Panel 2: Gail Cassell, PhD, Eli Lilly & Co; Anthony Atala, MD, Wake Forest School of Medicine; Vicki Seyfert-Margolis, PhD, US Food and Drug Administration; Stephen P. Spielberg, MD, PhD, Children's Mercy Hospital; James G. Baxendale, MS, MBA, University of Kansas
 
Panel 3: Scott Weir, PhD, Institute for Advancing Medical Innovation; Louis DeGennaro, PhD, Leukemia & Lymphoma Society; Tom Thornton, Kansas Bioscience Authority; Michael Weingarten, SBIR Development Center, National Cancer Institute
 
Panel 4: Roy Jensen, MD, The University of Kansas Cancer Center; Ellen V. Sigal, PhD, Friends of Cancer Research; Steven Averbuch, MD, Bristol-Myers Squibb Company; Frank Douglas, MD, PhD, Austen BioInnovation Institute of Akron and Kauffman Foundation.