At a town hall hosted by Friends of Cancer Research (Friends), Georgetown-Lombardi Comprehensive Cancer Center, and Lombardi's Capital Breast Care Center, leaders from academia, advocacy, industry and the federal government explored current research and policy initiatives on breast cancer health disparities. 

 
During the forum, held on Wednesday, Oct. 28th, at Georgetown University Medical Center, breast cancer disparities, the high rates of triple negative breast cancer and the disproportionate cancer incidence and death rates among minorities was given special focus.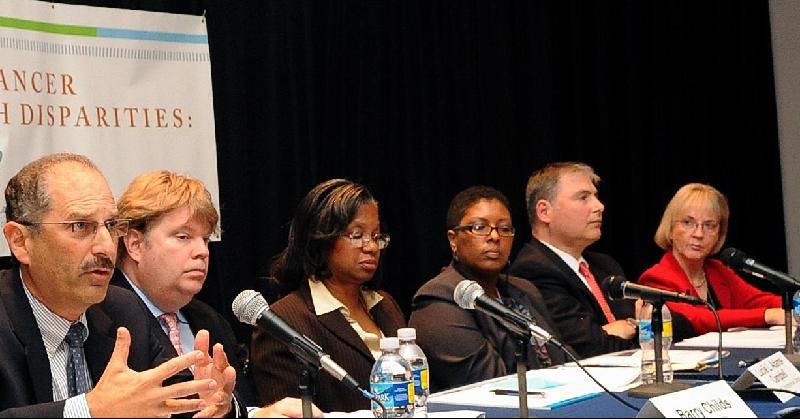 Panel Discussion at Georgetown (L-R) Dr. Helman, Dr. Childs, Dr. Adams-Campbell, Ms. Miner, Dr. Weiner, Dr. Barker
President of Friends, Marlene Malek, opened the discussion welcoming everyone and stressed the importance of collaboration between academic medical centers, industry, government researchers, regulators and patients, all working together to "eliminate the burden of cancer, and advance research." Malek, a former oncology nurse at Georgetown, also shared with the audience the many personal reasons that influenced her entry into cancer advocacy.
 
Chair and Founder of Friends, Dr. Ellen Sigal, discussed the importance of cancer research especially peer review and translational research. She thanked all the panelists for their contributions and Lombardi, which she praised as "a jewel in Washington D.C."
 
Deputy Director of the National Cancer Institute (NCI), Dr. Anna Barker, in her keynote address, focused on the staggeringly disproportionate rates of cancer incidence and mortality among minorities, especially African Americans.  She shared with the audience her grave concerns that the numbers will only go up if more resources and focus is not given to this issue. She emphasized the role of entities such as community hospitals and cancer centers in reaching out to under-served populations to educate them and thus help alleviate the crisis.
 
The panel discussion, moderated by Susan Dentzer, Editor-in-chief of Health Affairs, included topics such as the many factors that lead to health disparities, promising emerging therapies and the need for continued and sustained federal funding for biomedical and cancer research.
 
Head of the Molecular Oncology Unit at NCI, Dr. Lee Helman discussed the burden of triple negative breast cancer, a type of breast cancer that is more common among African American women as compared to Caucasian women. Triple negative breast cancer is characterized by tumors that lack the expression of the estrogen receptor, progesterone receptor, and the HER2 protein. He mentioned that although this is one of the most lethal types of cancer, like most breast cancer outcomes are best if caught early.  Researchers are currently working on targeted treatments that have showed early promise for triple negative breast cancer patients.
 
Dr. Barry Childs, Associate Vice President of Oncology for Sanofi-Aventis, agreed that triple negative breast cancer is the "worst type of cancer." He described Sanofi's efforts at developing targeted therapies including a treatment specifically targeted toward triple negative breast cancer that is currently in Phase III clinical trial.
 
Associate Director for Minority Health & Health Disparities at Georgetown-Lombardi Dr. Lucile L. Adams-Campbell highlighted the role of The Capital Breast Cancer Center (CBCC) in serving uninsured and under-insured populations of women all across DC by providing critical mammograms, follow up screenings and treatment for breast cancer. Dr. Adams-Campbell emphasized that "if we can't get to the population that needs education and access, then we will always have disparities."
 
A former patient of the CBCC and now a breast cancer survivor, Tovoia M. Miner shared her personal experience with CBCC. She explained how although she was uninsured, she was able to get free screenings at CBCC and how her cancer was detected early and treated through their vigilance. Ms. Miner said, "CBCC made it easy for me to create a relationship with medical staff and pursue medical care when I needed it."
 
Director of Lombardi, Dr. Louis M. Weiner, reiterated that "early detection of cancer, especially breast cancer, is the best way to prevent death." He spoke of the central role that Lombardi cancer center and CBCC play in not only serving the cancer patient community of DC, but also as a leading research facility.
 
Dr. Dora. Hughes, Counselor for Science and Public Health at the Department of Health and Human Services, in her closing keynote discussed the Obama administration's commitment to cancer research and providing health coverage for all Americans. She mentioned the provisions within ARRA funding to maintain health coverage for unemployed persons as an example of the administration's efforts. She illustrated the administration's commitment to cancer research by mentioning that as of October 28th, 2009, $877 million from ARRA has been allocated specifically for cancer research and $105 million of that to breast cancer-related research.
 
In closing, all the panelists agreed that access to health care is vital in order to reduce disparities. They spoke of the need for better communication between the public and medical community, increased federal funding for research and incentives to encourage young scientists to enter the field as other measures to take to combat the disease
 
During audience question and answer with the panel, Dr. Rebecca Riggins, an assistant professor at Georgetown, thanked Dr. Hughes and the Obama Administration for an ARRA grant she received which has allowed her team to study how genetic and environmental factors including BisPhenol-A (BPA) exposure affect susceptibility to breast cancer. 
 
For more information on this Town Hall or Friends of Cancer Research, please visit www.focr.org.