Budget Update:
President Bush signs year-end spending bill
On September 30, President Bush signed a year-end spending bill into law. The continuing resolution funds the government until March 6, 2009. The legislation funds NIH, NCI and FDA at FY 08 levels, $28.9 billion for NIH, $4.8 billion for NCI and $1.71 billion for FDA.
FDA and NIH each received an additional $150 million in the FY 08 Supplemental legislation that passed in June 2008 (NCI is allocated to receive $25.5 million of the NIH Funds). The Senate passed the CR legislation in a 78-12 vote on September 27 and the House passed the bill on September 24 with a 370-58 vote. The House and Senate also took up another economic stimulus package last week. The House passed their version by a 264-158 vote. The Senate failed to proceed to move their version forward in a 52-42 vote. The measure needed 60 votes to succeed. The Senate version included an addition $1.2 billion for NIH. With Congress expected to adjourn soon, no further action is expected.
Brookings Institute, Friends, AACR and ASCO Host Conference on Clinical Cancer Research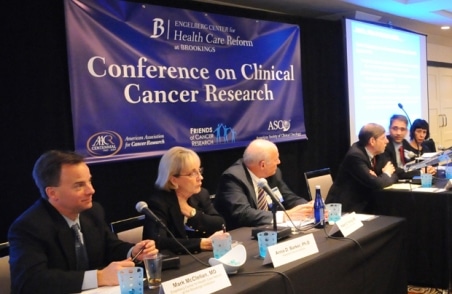 (Panel Four: L-R Dr. Mark McClellan, Dr. Ann Barker, Dr. Robert Young, Dr. David Kessler, David Epstein, Dr. Ellen Sigal)
The conference, held September 26 at the Hotel Palomar in Washington DC, convened key stakeholders to address critical questions regarding the future of clinical cancer research. Panelists included; Dr. Mark McClellan (Brookings), Dr. David Kessler (Former FDA Commissioner), Dr. Ellen Sigal (Chair and Founder Friends), Dr. Janet Woodcock (FDA), Dr. Richard Pazdur (FDA) and others representing the most influential minds of industry, advocacy, regulatory, academic and government research communities. NCI Director Dr. John Niederhuber made opening remarks, and FDA Commissioner Dr. Andrew von Eschenbach delivered the luncheon keynote address.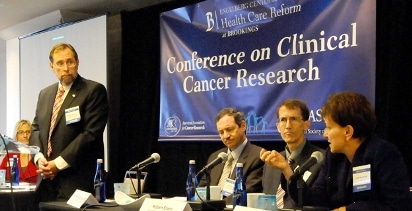 (Panel One: L-R Dr.
Gwen Fyfe, Dr. Richard Schilsky, Dr. Jeffrey Abrams, Robert Erwin, Dr. Janet Woodcock)
Throughout the day long conference, panelists addressed pressing scientific and regulatory challenges and opportunities for progress in innovations in cancer therapy. The first three panels discussed options for clinical data standards, alternative methods for demonstrating the efficacy of promising therapies, and approaches to the joint development of cancer drugs and diagnostic tests respectively.
(Panel Two: L-R Dr. Jim Doroshow, Dr. Debasish Roychowdhury, Dr. Raymond DuBois, Dr. Richard Pazdur, Dr. Donald Berry, Nancy Roach)
The final panel, moderated by Dr. Robert Young, Chancellor of Fox Chase Cancer Center, explored a vision for the future of FDA – looking at how FDA can guide innovation and respond to the challenges of a quickly advancing field.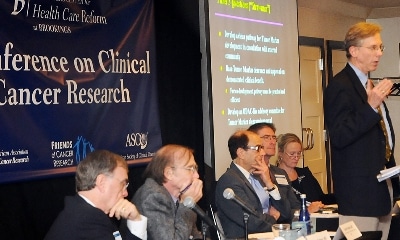 (Panel Three: L-R Dr. Raymond Woosley, Dr. Steven Gutman, Dr.Richard Simon, Dr. Richard Frank, Nancy Roach, Dr. Daniel Hayes)
Dr. Mark McClellan, Director of the Engelberg Center for Health Care Reform at Brookings, helped summarize the ideas generated throughout the day and highlighted FDA's role in fostering innovations in cancer research, the creation of a pathway towards more efficient data collection, and the use of biomarkers and diagnostics.
Dr. Ellen Sigal, Chair and Founder of Friends, closed the panel by calling for the establishment of a clear FDA oncology program, the need for transparency and consistency to regulatory procedures, and the necessity for a clear path forward, emphasizing the importance of keeping the momentum of the conference going "toward action rather than rhetoric."
Prior to the conference, panelists developed white papers on these issues that are available here: