Well Wishes To Senator Ted Kennedy
All of us at Friends of Cancer Research would like to extend our well wishes to Senator Ted Kennedy. Senator Kennedy's bravery and determination are unparalleled, and have made him one of our country's greatest advocates for cancer research. Our thoughts and prayers are with him and his family as he heads toward a full recovery.
Budget Update:
Congress Passes FY 2009 Budget Resolution
Congress passed the FY 2009 Budget Resolution last week with a 214-210 vote in the House and a 48-45 vote in the Senate. The budget resolution calls for a $24.5 billionincrease fromthe $991.6 billion in discretionary spending requested by President Bush. The budget resolution does not go to the President to sign into law, but outlines the parameters for the 12 annual appropriations bills. The House and Senate committees now begin work on their appropriations mark-ups. Currently, the Senate is expected to mark-up the Labor-HHS appropriations bill the week of June 23rd and the House Appropriations Labor-HHS subcommittee is doing the same on June 19th.
HHS Secretary Michael Leavitt Announces Amendment to FY 2009 Budget Request, Sen. Specter Stresses Need for FY2008 Funds
On Monday, June 9, Secretary Leavitt announced that the Administration is amending its budget request for FY 2009 to include an additional $275 million for FDA to improve food and medical product safety.Sec. Leavitt stated, "This increase will allow FDA to continue to transform its regulatory strategies to meet the challenges of the evolving global marketplace. I urge Congress to act quickly to give FDA the authority and funding it needs to enhance the safety of our food and medical products."
Sen. Arlen Specter sent a letter to Sec. Levitt June 10 stating that the $275 million is already included in the Senate version of the FY 08 Supplemental bill, a provision of which he is a strong advocate.Sen. Spectercautioned that theinclusion of the $275 million in the FY 09 budget might jeopardize its standing for FY 08. Sen. Specter stated, "The facts are that if these funds are not provided in this supplemental, no additional dollars will be available until March or April of 2009 – at the earliest."
The House Appropriations Agriculture Subcommittee, the subcommittee with jurisdiction over FDA funding,and the Labor-HHSSubcommittee are expected to have a mark-up of their respective FY2009 bills on June 19th.
The potential inclusion of an additional $275K in the 2008 defense supplemental is still being debated within both houses of Congress.
Stand Up To Cancer (SU2C):
Dr. Margaret Foti of AACR and Hollywood Producer Laura Ziskin Discuss This History-Making Event
Stand Up To Cancer (
www.standup2cancer.org
), is a new initiative to raise philanthropic dollars for accelerating ground-breaking cancer research. This effort, which was launched on May 28th, is being spearheaded by an unprecedented collaboration uniting the major television networks, entertainment industry executives, celebrities and prominent leaders in cancer research and patient advocacy. ABC, CBS and NBC will donate one hour of simultaneous commercial-free primetime for a nationally televised fundraising event to air on September 5, 2008 (8 pm EDT and PDT), aimed at rallying the public around the goal of ending cancer's reign as a leading cause of death.
The event was the brainchild of The SU2C leadership team which includes; long time Friends collaborator the Entertainment Industry Foundation (EIF), represented by EIF Board of Directors Chairperson Sherry Lansing, Founder of the Sherry Lansing Foundation and a Friends board member, as well as EIF CEO Lisa Paulsen; the Noreen Fraser Foundation and its executives Noreen Fraser, a cancer survivor, Woody Fraser, Rusty Robertson and Sue Schwartz; nonprofit executive Ellen Ziffren, and prominent Hollywood producer Laura Ziskin, a cancer survivor, whose film credits include the Spider-Man trilogy, As Good As It Gets, and Pretty Woman. Ms. Ziskin will produce the September 5th broadcast.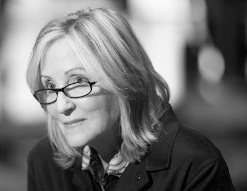 "As a motion picture and television producer, I've learned how incredibly powerful these mediums can be in generating public discourse, sometimes almost overnight. Our goal with this initiative and TV show is to 'tip' the conversation in this country about cancer – to get people riled up, so they want to do something about the fact that it still takes so many lives," said Ziskin.
Ms. Ziskin described to us how Stand Up To Cancer's innovative approach to research is designed to eliminate barriers that have traditionally inhibited creativity and collaboration. The funds will go to the best and brightest investigators from leading institutions across the country and internationally to work together. These collaborative "Dream Teams" will pursue the most promising research, accelerating the discovery of new therapies for cancer patients and advancing efforts in cancer prevention research.
"The event on September 5th will not only be entertaining but also educational. I hope it inspires viewers and creates a movement to advance research and better patients lives," said Ziskin.
Stand Up To Cancer has partnered with The American Association for Cancer Research (AACR), who will conduct expert scientific review of the research projects and administer funds raised through the initiative under the direction of a Scientific Advisory Committee.
Dr. Margaret Foti, CEO of AACR, recently discussed with us how this initiative and AACR's involvement has been years in the making, going all the way back to 2002.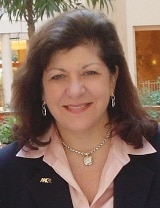 "We are so proud that AACR was chosen to serve as the scientific arm of the project. AACR is thrilled at the potential this initiative has to truly impact the future of cancer research. Stand Up To Cancer comes at a very important moment in the evolution of cancer research," Foti said. "These funds can really have an impact and move promising research forward, that otherwise may not have had the funding to do so."
"Stand Up To Cancer's emphasis on creating dream teams among scientists has the scientific community energized to collaborate," said Dr. Foti. "The funds raised from Stand Up to Cancer present tremendous opportunity to accelerate the time between discovery and delivery to clinical applications."
A Stand Up To Cancer Advocate Advisory Council is being formed, and will include leaders from approximately 25 organizations. Additionally, representatives from the advocacy community will work side-by-side with the scientists on the "Dream Teams," so the perspectives of the patients and survivors they represent will be integrated into the direction of the research.
"I applaud the efforts of all involved, especially the American Association for Cancer Research (AACR) and the Entertainment Industry Foundation (EIF), for reigniting the call for action to beat this disease that affects every American," said Dr. Ellen Sigal, Chair, Friends of Cancer Research.
In future months we will keep you updated on the progress of this initiative and speak with other key members that have made this unprecedented event a reality.