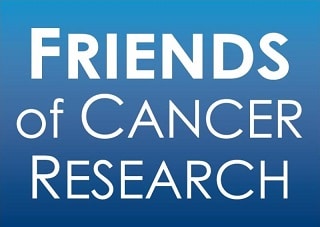 To access a meeting recap of this archived event, please Click HERE.
Molecularly Targeted Therapies in Pediatric Cancer
Tuesday, February 20, 2018
8:00 AM EST – 1:00 PM EST
JW Marriott
1331 Pennsylvania Ave NW
Salon DE
Washington, DC 20004
Thank you to all attendees! Click HERE for the finalized meeting slides.
Friends of Cancer Research is proud to host a half-day meeting where invited members of the FDA, NIH, industry, academia, and patient advocacy communities will discuss several important considerations that will help identify scientifically-driven approaches for the creation of a list of molecular targets considered substantially relevant in pediatric cancers.
Robust drug development for pediatric cancers is critical to ensuring appropriate access to life-saving drugs and promoting innovation. Title V of the FDA Reauthorization Act (FDARA) of 2017, updates the Pediatric Research Equity Act (PREA), which mandates any sponsor submitting an original application for a cancer product directed at a molecular target that is determined to be substantially relevant to the growth or progression of pediatric cancer, to conduct a molecularly targeted pediatric cancer investigation designed to yield clinically meaningful pediatric study data to inform potential pediatric labeling.
The meeting will facilitate discussion on transparent and scientifically sound processes that address the following provisions:
Developing the molecular target lists: Forming frameworks of factors that may guide the definition of molecular targets as substantially relevant or not relevant to the growth or progression of one or more pediatric cancers
Updating the lists of molecular targets: Defining mechanisms and timelines by which such updates may occur
Applying the molecular target lists: Addressing key considerations in the application of the lists to pediatric cancer drug development
Click below to register and keep scrolling down for the finalized agenda for the meeting.
Finalized Agenda
8:00am – Registration and Breakfast
8:30am – Welcoming Remarks
Ellen Sigal, Friends of Cancer Research
8:35am – FDA Perspective on the Implementation of FDARA: Opportunities for Pediatric Precision Oncology Medicine
Gregory Reaman, U.S. FDA
8:50am – Presentation: Framework to Define Potential Relevance of Molecular Targets
Malcolm Smith, NCI
9:00am – Panel 1 Discussion: Molecular Targets in Pediatric Cancers – Framework and List
Panelists:
Malcolm Smith, NCI (moderator)
Scott Armstrong, Dana-Farber Cancer Institute
Nancy Goodman, Kids V Cancer
Katherine Janeway, Dana-Farber Cancer Institute
Gregory Reaman, U.S. FDA
Martina Uttenreuther-Fischer, Boehringer Ingelheim
10:00am – Q&A
10:30am – Break
10:45am – Presentation: Updating the Molecular Target List – Translating Emerging Science
Peter Ho, Boston Pharmaceuticals
10:55am – Panel 2 Discussion: Processes for Updating the Molecular Target List
Panelist:
Peter Ho, Boston Pharmaceuticals (moderator)
Albert J Allen, Eli Lilly and Company
Martha Donoghue, U.S. FDA
Danielle Leach, St. Baldrick's Foundation
Rajen Mody, University of Michigan School of Medicine
Nita Seibel, NCI
11:25am – Q&A
11:45am – Presentation: Applying the Molecular Target List to Cancer Drug Development for Pediatrics
Brenda Weigel, University of Minnesota
11:55am – Panel 3 Discussion: Considerations for the Application of a Molecular Target List to Cancer Drug Development for Pediatrics
Panelist:
Brenda Weigel, University of Minnesota (moderator)
Peter Adamson, Children's Hospital of Philadelphia
Jo Lager, Sanofi
Charles Mullighan, St. Jude Children's Research Hospital
Susan Weiner, Children's Cause for Cancer Advocacy
Lynne Yao, U.S. FDA
12:35pm – Q&A
12:55pm –  Closing Remarks
Gregory Reaman, U.S. FDA
Jeff Allen, Friends of Cancer Research