On November 17, 2015, the eighth-annual Conference on Clinical Cancer Research was convened by Friends of Cancer Research and the Center for Health Policy at the Brookings Institution with the support of Susan G. Komen for the Cure. Each year, this conference brings together a diverse group of experts in cancer drug development from academic and clinical research centers, federal health and regulatory agencies, patient advocacy organizations and the private sector to develop practical, consensus-driven solutions to critical challenges in cancer drug development. The ideas generated through this collaborative conference have gone on to profoundly impact cancer treatment and care.
This year's conference began with a keynote conversation between Dr. Ellen V. Sigal, Chairperson and Founder of Friends of Cancer Research, and Dr. Richard Pazdur, Director of the FDA's Office of Hematology and Oncology Products. Dr. Sigal asked Dr. Pazdur to comment on his vision for the FDA, what he has learned from his experience there, as well as lessons from his experience in supporting his wife through her battle with cancer. Dr. Pazdur's response noted that while the FDA's mission has two goals—to protect the public and to promote public health—the first of these is often prioritized at the expense of the second. The FDA must recognize its duty to ensure drugs that are safe and effective can be made available to patients in need. He pointed out that while the field of oncology has changed significantly since 1962, the basic regulatory structure has not stating, "Have you changed since 1962? Have things at FDA changed? Yes, but there is still more work to be done." Through his personal experience, Dr. Pazdur said he has "Seen the warts of the system." He described how difficult it is to navigate the expanded access system and the need for improved informed consent processes. He also discussed the need for scientifically-justified eligibility criteria in clinical trials to improve patient access. He went on to say that he would like to ask patients, "What do you want, not what the FDA wants. Ultimately, clinical trials are about you." Dr. Sigal thanked Dr. Pazdur for his candid remarks and said, "You give us hope."
As Dr. Pazdur stated, oncology is not where it was 30 years ago. In that light, this year's conference focused on how meaningful endpoints reflecting the biology of today's treatments can be developed, and how important it is that these endpoints are data-driven. The need to develop best practices for big data and data-sharing was also discussed. Additionally, the conference focused on innovative, seamless drug development programs and how to ensure these programs can meet the goals described by Dr. Pazdur of protecting patient safety and promoting patient health by making effective drugs available as safely and quickly as possible.
Click here to view the full keynote conversation between Dr. Pazdur and Dr. Sigal
Panel One – Modernizing Measurement of Tumor Response to Therapy: Application to Immunotherapeutics
Nancy Roach, Fight Colorectal Cancer
Lalitha Shankar, National Cancer Institute
Geoffrey Oxnard, Dana Farber Cancer Institute
Larry Schwartz, Columbia University Medical Center
Wendy Hayes, Bristol-Myers Squibb
Marc Theoret, US Food and Drug Administration
Click here to view the Panel One Issue Brief
Click here to view the Panel One Slides
The first panel discussed how the cancer research community can come together to develop improved metrics for gauging tumor response and progression for use in drug development "go/no-go" decisions, as well as potentially predictive tools for regulatory decisions. This panel discussed an exciting and collaborative research effort, Volumetric CT for Precision Analysis of Clinical Trial results (Vol-PACT), which has been initiated under the auspices of The Biomarkers Consortium of the Foundation for the NIH (FNIH). This effort, Vol-PACT, aims to collect source imaging data and associated survival data from completed large landmark trials in order to study a variety of potential quantitative response metrics. While this effort has been ongoing for targeted therapies, it is only just beginning to delve into data from trials for immunotherapies. The panel emphasized the need for collaborative data-sharing to facilitate studies such as these, which ultimately can have profound impact for all stakeholders. In particular, this panel focused on the need for modernized approaches for assessing the activity of immunotherapies, for which conventional means of measuring progression often underestimate the treatment effect and may mislabel a patient as having progressive disease. The relative tolerability of these agents and potential for benefit after RECIST-defined progression means that in some cases, continued treatment beyond this point may be appropriate. The panel discussed the need for comprehensive and nuanced documentation of progression and continued data collection after progression in order for learnings from these trials to inform efforts such as Vol-PACT and contribute to improved metrics for future trials.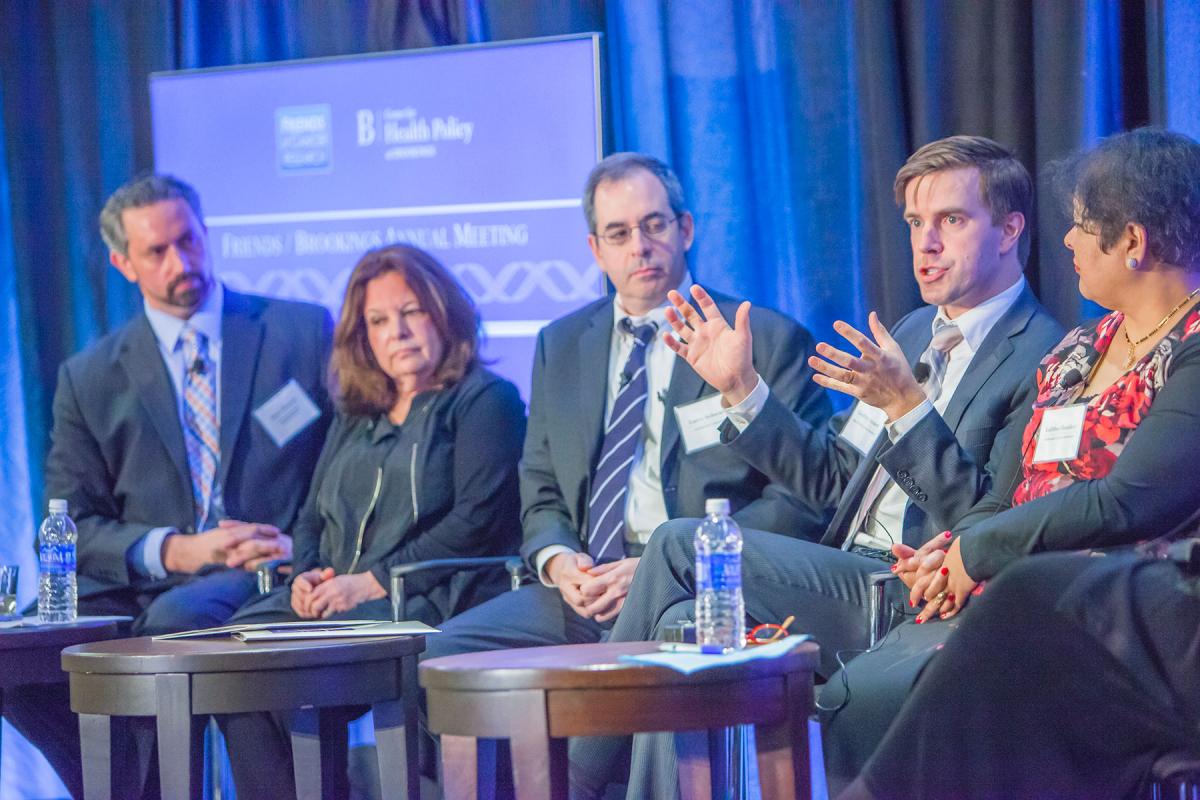 (L-R) Marc Theoret, Wendy Hayes, Larry Schwartz, Geoffrey Oxnard, Lalitha Shankar
Panel Two – Capturing Symptomatic Adverse Events From the Patients' Perspective: The Potential Role of the National Cancer Institute's PRO-CTCAE Measurement System
Patty Spears, Cancer Information and Support Network
Sandra Mitchell, National Cancer Institute
Ethan Basch, University of North Carolina at Chapel Hill
Alicyn Campbell, Genentech
Paul Kluetz, US Food and Drug Administration
Click here to view the Panel Two Issue Brief
Click here to view the Panel Two Slides
The second panel discussed a tool recently developed by the National Cancer Institute and a consortium of research centers, oncology practice sites and PRO instrument developers—the Patient-Reported Outcomes Version of the Common Terminology Criteria for Adverse Events (PRO-CTCAE)—which is intended to measure symptomatic adverse events related to cancer treatment from the patient perspective. Although there are ongoing efforts to include patient-reported outcomes into clinical trials, these are hindered by substantial variation in the concepts that are being targeted, the instruments that are being used to collect data, the approaches to their implementation in oncology trials and the ways in which the resulting data are analyzed and presented. The PRO-CTCAE represents a near-term opportunity to incorporate self-reporting of symptomatic toxicity data in a standardized fashion across the drug development spectrum. To develop the PRO-CTCAE, 78 symptomatic AEs drawn from the CTCAE were identified as amenable to patient reporting. These events were subsequently developed into a library of 124 PRO items. This panel discussed potential uses of this item library, how use of the PRO-CTCAE library and electronic data capture can be operationalized and how the descriptive information could potentially be included in drug labels as it is incorporated into more clinical trials.
(L-R) Alicyn Campbell, Ethan Basch, Sandra Mitchell, Patty Spears, Paul Kluetz
Panel Three – The Blurring of Phase 1, 2 and 3 Trials in Oncology: Expansion Cohorts in Phase 1 Trials
Tatiana Prowell, US Food and Drug Administration
Eric Rubin, Merck
Elizabeth Garrett-Mayer, Medical University of South Carolina
Aman Buzdar, MD Anderson Cancer Center
Jane Perlmutter, The Gemini Group
Click here to view the Panel Three Issue Brief
Click here to view the Panel Three Slides
The final panel presented recommendations and best practices for the use of expansion cohorts in the development of a new drug, biologic or therapeutic combination. The FDA has seen an increasing number of first-in-human cancer clinical trials that have enrolled hundreds of patients through multiple expansion cohorts. This paradigm is becoming more common for very active drugs intended for populations with high unmet need – often the same drugs receiving Breakthrough Therapy Designation. The panel agreed that it is an urgent priority to make these transformative therapies available to patients in need as early as possible. However, they also emphasized the importance of rigorous and systematic data collection in order to foster and learn as much information as possible from patient volunteers. Clear and appropriate objectives, endpoints, a valid statistical plan and appropriate trial governance should be in place. In addition, emphasis was placed on the need for updated informed consent documents with the most current information about drugs under study. The panel also discussed the potential need for independent oversight and monitoring to ensure a coordinated response to safety concerns or to provide sufficient rationale to continued expansion of the trial. By maintaining the rigor that is expected of any large trial, seamless drug development programs can expedite access to new therapies to current patients, as well as provide robust data to inform the decisions of future ones.
(L-R) Jane Perlmutter, Elizabeth Garrett-Mayer, Eric Rubin, Tatiana Prowell, Aman Buzdar
Closing Keynote
The closing keynote was an involved conversation between Dr. Sigal and Dr. Robert Califf, who arrived at the conference immediately following his Senate confirmation hearing for his nomination to Commissioner of the FDA. Dr. Califf mentioned his mother, a survivor of multiple myeloma, who has been able to benefit from continued therapeutic advances for that disease. He described his long-standing admiration of the FDA and thanked Dr. Pazdur for being so effective. He also praised patient advocates by saying that much of the success in the field would not be possible without the involvement and passion of patients and their families. He emphasized the need for rigorous trials and stressed the FDA's role to be creative and promote clinical research that produces quality treatments that improve the lives of patients everywhere. Dr. Sigal asked Dr. Califf about his priorities for the agency moving forward. He responded that his first priority is strengthening the workforce and improving the workplace for dedicated FDA staff. Another priority is improving biomarker development and validation while optimizing clinical trials so that important questions can clearly be answered. He said that the use of electronic health records has the potential to transform the clinical trial system and significantly reduce costs to produce a national evidence generation system. He emphasized the importance of our society accepting the ethos that when one undergoes medical care, they're contributing to an iterative learning healthcare system. By participating in the process, loved ones in the future will benefit.
Dr. Robert Califf and Dr. Ellen Sigal