Each year, Friends of Cancer Research (Friends) and the Engelberg Center for Health Care Reform at Brookings convene the Conference on Clinical Cancer Research. This annual conference is the culmination of year spent in collaborative meetings and working groups, writing pre-conference reports and developing patient-driven solutions to the most pressing issues in cancer care. The conference brings together leaders from federal health and regulatory agencies, academic research centers, patient advocacy organizations, and the private sector to address the most critical, cutting-edge issues surrounding the development and regulation of cancer drugs and therapies.
On November 7, 2013, the sixth Friends-Brookings conference was held in Washington, DC, with generous support from the American Society for Clinical Oncology and Susan G. Komen for the Cure. This year's conference, attended by hundreds of leaders in their fields, featured three sessions that proposed innovative approaches to current challenges in drug development: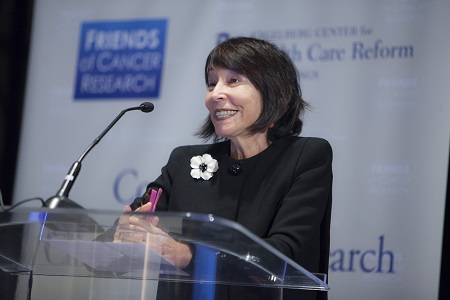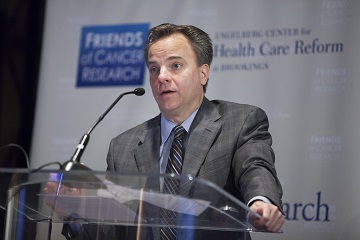 In welcoming remarks, Dr. Ellen Sigal, the chair and founder of Friends of Cancer Research (pictured above, left), detailed a wide-ranging list of cancer advances that evolved directly from research presented at the previous five CCCR gatherings-most notably, the "Breakthrough Therapies" designation which today enables the FDA to expedite development of drugs that show substantial promise in early clinical trials. The Breakthrough Therapies pathway originated from a session at the 2011 meeting; bipartisan legislation was enacted barely nine months later, and has resulted in some extraordinary early successes, Sigal explained. "Each year, we work together towards getting results," she reiterated. At this year's conference, that commitment to results could be seen in the announcement of a new Lung Cancer Master Protocol-an exciting milestone which grew out of a white paper presented at last year's CCCR gathering. Dr. Mark McClellan, senior fellow and director of the Health Care Innovation and Value Initiative at Brookings (pictured above, right), echoed Sigal's comments. "Through the past five conferences, this community has explored a host of critical topics and helped identify practical next steps to advance regulatory science, clinical research, and policy," he said. This year's gathering would again "encourage an emphasis on actionable and practical recommendations to improve current clinical cancer research and practices," McClellan promised.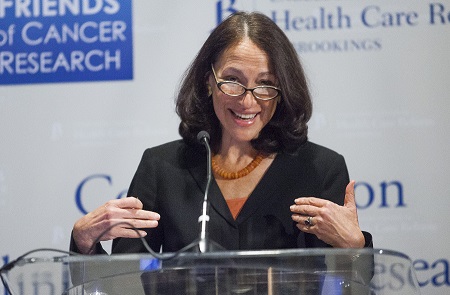 Dr. Margaret Hamburg, Commissioner of the U.S. Food and Drug Administration, (pictured above), offered keynote remarks. "In a field that's too often limited by silos, the Friends-Brookings conference is one of the best venues for open, public collaboration on behalf of patients everywhere," she said, adding that the FDA relies extensively on the conference findings every year for invaluable "input, problem-solving and guidance." By convening international experts from so many sectors, she said, the CCCR ensures that "ideas that originate [here] don't end up lost in transcripts and white papers-they go on to profoundly impact the way we approach cancer treatment and care." The commissioner commended two recent advances, in particular: The Breakthrough Therapies designation to expedite development and review of new, life-saving drugs, and the Lung Cancer Master Protocol. Less than two years after the idea was proposed at this conference, we have already seen 30 drugs designated as Breakthrough Therapies, she noted. And regarding the lung cancer protocol, she said, it had "blossomed from an innovative idea born here just last year into a tangible and truly revolutionary new structure designed to take advantage of the opportunities in personalized medicine." The new protocol "vastly increases the chance that we will find more effective treatments, and does so in a creative and more cost-effective way," she said, adding that its promise extends far beyond lung cancer drugs to clinical research on a wide range of diseases and the search for cures.
PANEL ONE: Facilitating the Development of Immunotherapies: Intermediate Endpoints for Immune Checkpoint Modulators
Click here to read the Issue Brief ; Click here for Presentation Slides
Immunotherapies hold the potential for long-term antitumor activity; however, the response to immunotherapies is often delayed. The pre-conference white paper that was put forth sought to identify new tools for measuring the activity of immunotherapies, and proposed several endpoints that could account for the potential of delayed treatment effect.
Moderated by James Allison, Immunology Chair, The University of Texas MD Anderson Cancer Center.
Panelists:
Mark Gorman, Survivor and Patient Advocate
Ramy Ibrahim, Senior Medical Director, Clinical Development, Oncology, MedImmune
Axel Hoos, Vice President of Oncology R&D, GlaxoSmithKline
Tai-Tsang Chen, Lead Statistician, Bristol-Meyers Squibb
Steven Rosenberg, Head of the Tumor Immunology Section, NCI
Amy McKee, Lead Medical Officer, Center for Drug Evaluation and Research, FDA
Celia Witten, Director, Office of Cellular, Tissue, and Gene Therapies, Center for Biologics Evaluation and Research, FDA
The first session explored the promise and potential for a certain class of drugs, called check point modulators, to regulate a patient's immune system to kill cancer cells. One notable challenge associated with this exciting field of oncology: A patient's response to some immunotherapies may take longer to be observed than response to traditional anti-cancer drugs. As a result, conventional measurements of 'success' may underestimate the efficacy of these drugs and may even be an inappropriate way to evaluate them. The presenters discussed the need for alternative methods to evaluate clinical cancer trials that account for the potential of a delayed treatment effect. A better understanding of appropriate endpoints could reduce the chance that trials of promising new drugs would be prematurely halted, and could thereby encourage the development of effective, life-saving treatments in cancer care.
Dr. James Allison discussed the "durable response" that various immunotherapies have been shown to deliver in clinical research on patients with lung, brain, and prostate cancers, and noted that the approach has been shown to work in virtually all types of cancer. Dr. Tai-Tsang Chen further explored the rationale for agreeing on a new set of intermediate endpoints or tools to measure the activity of immune checkpoint modulators. He proposed an alternate approach to evaluating survival, dubbed the "milestone survival analysis," which measures the proportion of survivors at a pre-specified time, and detailed the pros and cons of this approached compared to those of the conventional approach of measuring survival. And reflecting on the discussion of alternative endpoints, Dr. Amy McKee reminded the group that "overall survival as an endpoint is still the gold standard" in any effort to measure the efficacy of a cancer therapy.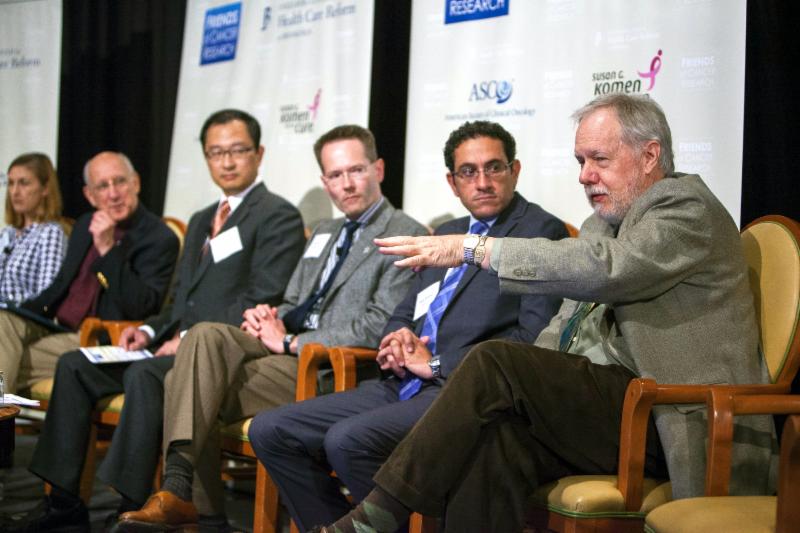 L-R: Amy McKee, Steven Rosenberg, Tai-Tsang Chen, Axel Hoos, Ramy Ibrahim, Mark Gorman
Emotional testimony from Mark Gorman, a long-term survivor of metastatic melanoma and an eloquent patient advocate, added a powerful first-hand perspective on immunotherapy. Reflecting on the deaths of one 'cancer buddy' after another over the last 15 years, he expressed relief that his current buddy is finally responding well to a new combination of immunotherapeutic treatments. Calling himself an 'outlier', he shared his hope that cases like his would become the rule instead of the exception in the successful treatment of cancer. "Durability is a good thing," he concluded.
PANEL TWO: Announcement of a Lung Cancer Master Protocol
Click here for Presentation Slides
Moderated by Jeff Allen, Executive Director, Friends of Cancer Research
Panelists:
Roy Herbst, Chief of Medical Oncology, Yale Cancer Center
Janet Woodcock, Director, Center for Drug Evaluation and Research, FDA
David Gandara, Director, Thoracic Oncology Program, UC Davis
Vali Papadimitrakopoulou, Professor, Dept. of Thoracic/Head and Neck Medical Oncology, MD Anderson Cancer Center
Ann Ashby, Deputy Executive Director, Foundation for the National Institutes of Health
Vince Miller, Chief Medical Officer, Clinical Development, Foundation Medicine
Jeff Abrams, Chief, Clinical Investigations Branch, National Cancer Institute
Mary Redman, Statistician, Fred Hutchinson Cancer Center
This session centered on the official announcement of a Lung Cancer Master Protocol, a first-of-its-kind clinical trial design that has generated much excitement in the broader cancer research community. The new protocol is designed to address a fundamental challenge in cancer research and care: Developing a potential therapy from the initial discovery stage through clinical testing and regulatory review is a complicated, expensive and often inefficient process that can take up to 15 years.
The new master protocol aims to cut through the typical administrative and regulatory hurdles associated with large clinical trials by testing several drugs at once in hundreds of clinics across the United States and Canada. Rather than undergoing multiple time-consuming tests, patients can be screened for various biomarkers with a single test, and be "matched" to the treatment regimen and medicine most likely to help slow their cancer as soon as possible. Researchers will study patients with advanced-stage squamous cell lung cancer. When the study gets underway in the next few months, it will represent the first biomarker-defined, multi-arm, multi-drug clinical trial designed to evaluate the effectiveness of five different therapies for the disease.

L-R: Mary Redman, Jeff Abrams, Vince Miller, Ann Ashby,
Vali Papadimitrakopoulou, David Gandara, Janet Woodcock, Roy Herbst, Jeff Allen 
Dr. Roy Herbst detailed the unique public-private partnership behind the master protocol lung cancer trial. The collaboration brings together Friends of Cancer Research with the FDA, the National Cancer Institute, the Foundation for the National Institutes of Health (FNIH) and the Southwest Oncology Group (SWOG), as well as leaders in academia and in the pharmaceutical industry. The FNIH and SWOG will manage the trial, while Foundation Medicine, a cancer genetics research company, will provide the common platform used to test molecular alterations in each patient's lung tissue. Herbst also announced the five cancer therapies that will be included initially, as selected by an academic review panel:
MEDI4736, from MedImmune, an anti-PD-L1 monoclonal antibody
AZD4547, from AstraZeneca, a FGFR tyrosine kinase inhibitor
Rilotumumab, from Amgen, a hepatocyte growth factor receptor c-MET inhibitor
Not identified, from Genentech/Roche, a PI3 kinase inhibitor, and
Palbociclib, from Pfizer, a CDK4/6 kinase inhibitor
Dr. Vali Papadimitrakopoulou, the study chairman, described plans to screen up to 1,250 potentially eligible patients and enroll 500 to 1,000 of them in the first year. With guarded optimism, she told conference attendees she expected to launch the first phase of trials by March, 2014, and hoped to share preliminary results by the time the CCCR convenes again next November.  "We need to turn the clinical trial paradigm on its head," urged Dr. Janet Woodcock, noting that the lung cancer protocol has the potential to do just that. "This is an ethical imperative," she added, calling the new approach "the best hope for patients" whose survival depends on faster answers and research. And Dr. David Gandara echoed these thoughts when he described the potential of the Lung Cancer Master Protocol to revolutionize cancer trials in general. If we can screen 1,000 patients a year for specific, targeted biomarkers, "we will have changed the entire paradigm for drug development" and cancer care. "The world is watching this group," he added, noting that members have already received inquiries from researchers in Europe about launching master protocols based on the model.
PANEL THREE:  Optimizing Dosing of Oncology Drugs
Click here to read the Issue Brief ; Click here for Presentation Slides
The current approach to oncology drug development provides a suboptimal understanding of the relationship between dose and clinical outcome. The pre-conference white paper put forth sought to determine how dosing can be improved for cancer patients, and proposed a novel approach for using expanded access protocols to perform comparative dosing studies.
Moderated by Richard Schilsky, Chief Medical Officer, American Society of Clinical Oncology
Panelists:
Atiqur Rahman, Director, Division of Clinical Pharmacology V, CDER, FDA
Daniel Auclair, Research Director, Multiple Myeloma Research Foundation
Lori Minasian, Deputy Director, Division of Cancer Prevention, National Cancer Institute
Oliver Rosen, Vice President and Head of Global Medical Affairs, Millennium: The Takeda Oncology Company
Richard Pazdur, Director, Office of Hematology and Oncology Products, CDER, FDA
The final session of the conference considered important questions around the optimal dose of oncology drugs for patients with varying needs. Cancer treatment has changed over the years, evolving from the use of highly toxic chemotherapy focused largely on treatment at the "maximum tolerated dose" (MTD) to the use of targeted therapies that may achieve optimal efficacy at a dose lower than the maximum a patient can tolerate. Identifying the right balance-the dose at which efficacy is maximized but toxic side effects are minimized-is important to provide longer survival and the best quality of life for patients. Panel members proposed alternative approaches to determining dosing for oncology drugs that seek to optimize dose selection as well as enable a more complete understanding of the relationship between drug exposure and clinical outcomes. They also explored how this can be achieved without delaying the entry of promising new drugs to the market.

L-R: Richard Pazdur, Oliver Rosen, Lori Minasian, Daniel Auclair, Atiqur Rahman, Richard Schilsky
Dr. Richard Schilsky outlined the key factors that lead to variable drug responses among different cancer patients-which include different rates of metabolism, and a patient's age, weight, and diet. The result, he explained, is that "any dose we put in the marketplace will inevitably be too high for some patients and too low for others." Dr. Lori Minasian discussed the importance of patient-reported outcomes of adverse events during cancer treatment, and how they often differ considerably from reported side effects by clinicians. And Dr. Oliver Rosen led a discussion about the optimal timing for conducting dosing comparison research. The panel discussed optimal timing for such studies, concluding that while the most appropriate time is during Phase 2 studies before initiation of registration trials, the time period after completion of registration trials but prior to marketing approval by the FDA presents an additional window of opportunity. The panel proposed that dosing studies could be performed through expanded access protocols, an approach that may facilitate patient access as well as improve understanding of the drug without delaying development.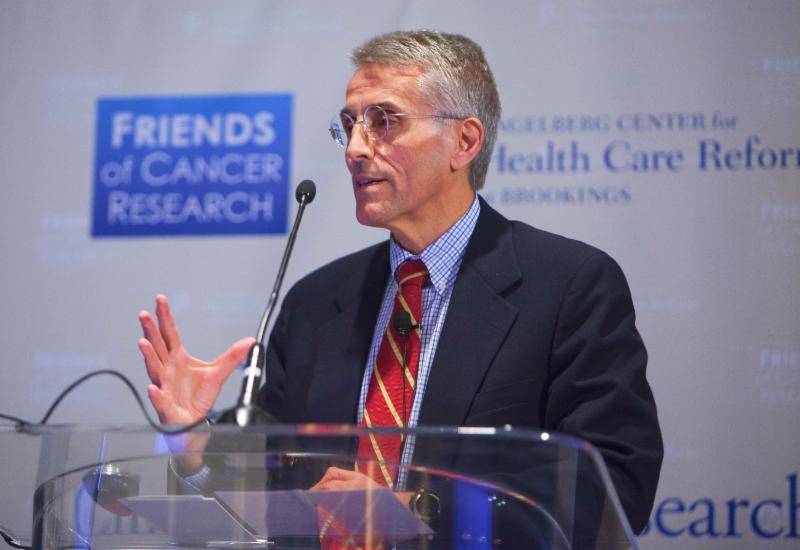 Finally, Dr. Richard Pazdur (pictured above) offered a sobering reality check. The cancer research community has sanctioned very high levels of toxicity in cancer care, and still does "an abysmal job" at finding the best dose of oncology drugs, he said. "We've had this philosophy that 'more is better'," adding that just because we're dealing with life-threatening and often fatal diseases "does not give us license to… accept such a high degree of toxicity" for patients. Pazdur endorsed the panel's recommendation that patient perspectives should be better integrated into discussions about the dose and toxicity of any therapies.
Brookings' Mark McClellan closed the conference, commending the panels and attendees for "moving us closer to consensus on how to approach some of the most critical issues in clinical cancer research" today. And turning that consensus into action-as exemplified by the Lung Cancer Master Protocol unveiled earlier in the day-is what it will take to "make a real difference in the lives of people" directly affected by cancer, he concluded.