On Thursday, November 17, Friends of Cancer Research (Friends) was proud to host our 15th Annual Meeting to address critical issues in the development of new oncology drugs. After our last two Annual Meetings were hosted virtually, we welcomed attendees back safely in-person and virtually. The entire event can be viewed here and a summary of the panel and keynote conversations can be found below.
Jeff Allen, President and CEO of Friends, commenced the 2022 Annual Meeting by welcoming everyone in attendance and inviting the first two speakers to the stage.
Dr. Robert Califf, Commissioner of the U.S. Food and Drug Administration (FDA), and Dr. Richard Pazdur, Director of the Oncology Center of Excellence (OCE) at the FDA, sat down for the Opening Keynote Conversation. The conversation quickly pivoted to discussing the Accelerated Approval (AA) pathway, and Dr. Pazdur reiterated the OCE's support for the pathway given how successful it has been for supporting earlier approval and patient access to promising oncology therapies. He identified areas for improving the AA pathway, such as more timely completion of confirmatory trials and timely withdrawal of drugs that fail to confirm benefit. Commissioner Califf and Dr. Pazdur discussed the globalization of clinical trials and the importance of ensuring they are multiregional and represent diverse patient populations. Dr. Pazdur announced a new OCE initiative, Project Pragmatica, which will aim to make clinical trials more efficient and less expensive by simplifying trial designs. Lastly, they discussed the importance of minimum performance criteria for diagnostic tests to ensure patients and providers receive accurate and reliable results regardless of the diagnostic test used.
Watch the Opening Keynote Conversation
"People going on clinical trials should be getting the best therapy regardless of where they live." – Dr. Rick Pazdur
Panel 1, Applying Learnings from COVID-19 to Advance Clinical Trial Conduct, was moderated by Nathan Pennell and included panelists Rita Livadas, Peggy McCann, Therica Miller, Timil Patel, Gary Smith, and Joseph Unger.  Joseph Unger opened the panel by presenting an overview of preliminary findings from the ongoing American Society of Clinical Oncology (ASCO)-Friends study which aims to evaluate the impact COVID-19 pandemic mitigation strategies had on cancer clinical trials. During the discussion, panelists identified several clinical trial flexibilities adopted during the pandemic with the potential to streamline and simplify cancer clinical trial conduct, such as remote patient monitoring, virtual appointments, and shipping of oral investigative agents. The panel discussed how lessons learned during the pandemic can support long-term use of these flexibilities to enable more rapid accrual, diverse enrollment, and improved access to clinical trials.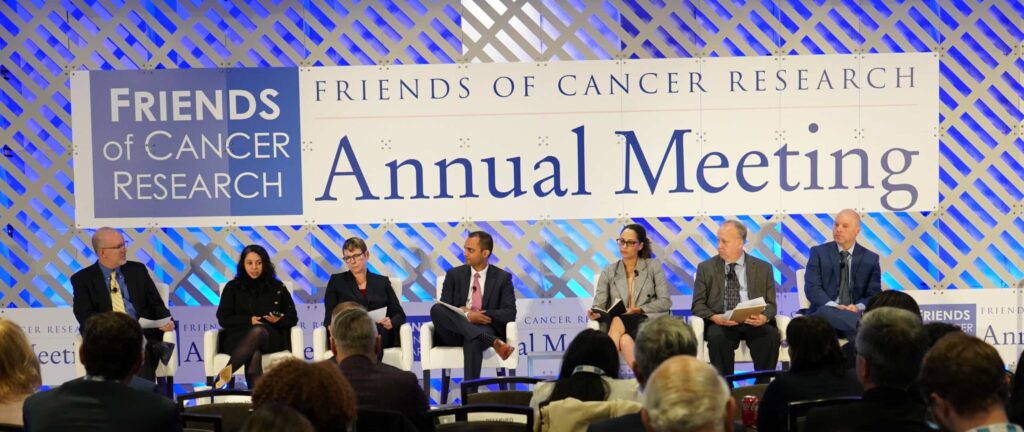 Panelists also highlighted that additional analyses of trial data are needed to understand whether trial modifications have any meaningful impact on data quality, which is the goal of the next phase of the study. The discussion also emphasized the critical role patients will play in identifying and prioritizing flexibilities that generate the most benefit for trial participants. Throughout the discussion, panel participants highlighted the need for additional guidance and policy solutions to support long-term buy-in and confidence in these approaches, including how they will be considered in regulatory decision-making after the public health emergency expires.
Panel 2, Incorporating Patient Reported Outcomes to Inform Dose Selection and Optimization, was moderated by Peter Trask and included panelists Vishal Bhatnagar, Serban Ghiorghiu, Kristin McJunkins, and Devin Peipert. Paul Kleutz provided introductory remarks describing how patient reported outcomes (PROs) have historically been incorporated in oncology drug development and their potential use to support dose optimization in oncology. The panel discussed how and when PROs can be leveraged to inform dose selection and optimization throughout oncology drug development, unique challenges of incorporating PROs in drug development, and the value of collecting PROs in early phase trials to inform dosing. Panelists emphasized there is not a one-size-fits all approach to measuring PROs to inform dosing; rather, there are several key factors to consider when selecting PROs to include in early phase trials, such as: patient burden, knowledge of non-clinical data, the drug's mechanism of action, and disease characteristics. Kristin McJunkins described the value of collecting PROs from a patient's perspective, noting that collecting PRO data in dosing trials provides important information on tolerability that can help patients understand how toxicities may impact day-to-day functioning.
For the Lunch Keynote Conversation, Dr. Ellen Sigal, Chair & Founder of Friends, sat down with Dr. Monica Bertagnolli, the newly appointed Director of the National Cancer Institute (NCI). They discussed how to create effective and inclusive clinical trial designs. Dr. Bertagnolli discussed the importance of merging clinical research and clinical care and highlighted Project Pragmatica as an example of a partnership between patients, pharmaceutical companies, nonprofits, and government regulators. Dr. Bertagnolli talked about how critical interagency cooperation and data sharing are to improve cancer research, and that future collaboration with ARPA-H should not detract from NCI's current activities. When asked about the reliability of Lab-Developed Tests and diagnostics, Dr. Bertagnolli discussed NCI's work in this area, including launching a new cancer screening network.
Watch the Lunch Keynote Conversation
"Patients trust us with their data, we owe it to them to eliminate roadblocks. We have to do more." – Dr. Monica M. Bertagnolli
Panel 3, Accelerating Investigation of New Therapies in Earlier Metastatic Treatment Settings: Discussions about FDA OCE's Project FrontRunner, was moderated by Colleen Mockbee with panelists Lola Fashoyin-Aje, Keith Flaherty, David Hyman, Anne Quinn Young, and Craig Tendler. Lola Fashoyin-Aje started the discussion by providing background on the FDA OCE's Project FrontRunner which aims to develop a framework to expedite investigation of therapies in earlier metastatic treatment settings. Panelists discussed how the shift toward earlier investigation of therapies in settings where there is greater potential for curative treatment has potential to generate greater benefit for more patients.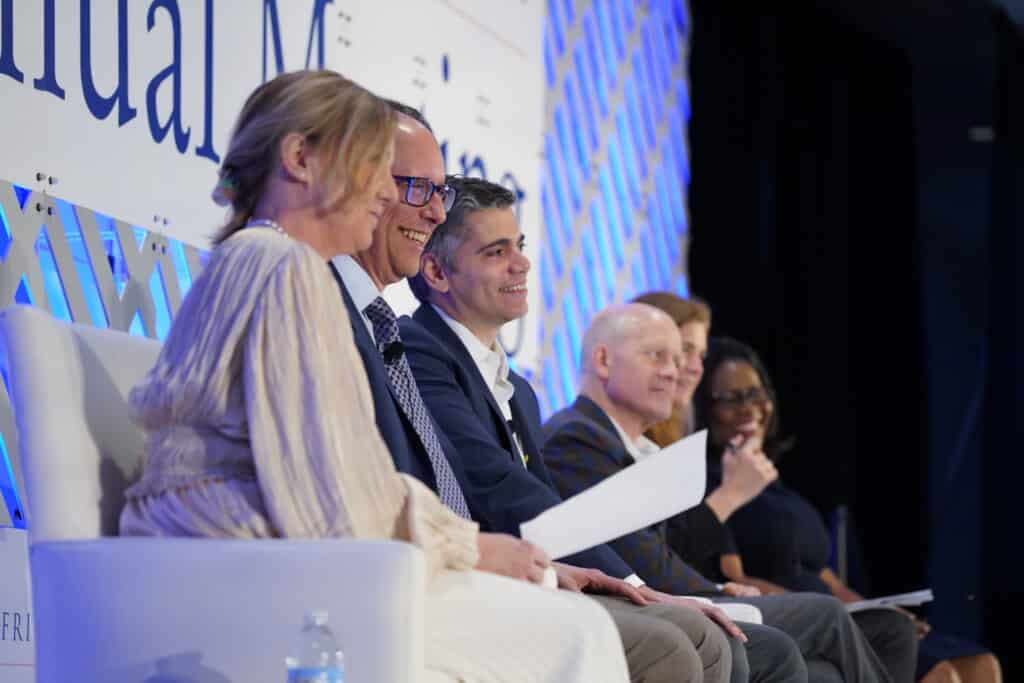 The panel also provided perspectives on what this shift will entail from different stakeholders including earlier consideration of the comprehensive development plan by sponsors, earlier collection of data to support investigation in early line settings, and greater education of patients and providers participating in clinical trials for these therapies. Panelists noted only certain therapies and indications will be appropriate for Project FrontRunner and discussed considerations that would help identify clinical scenarios that would benefit from such an approach. The discussion also covered the challenges that sponsors may face when shifting the timelines of their development plans and potential solutions for these challenges.
Panel 1 Participants: Nathan Pennell, Cleveland Clinic (Moderator), Rita Livadas, BD, Peggy McCann, Merck & Co., Inc., Therica Miller, Ichahn School of Medicine at Mount Sinai, Timil Patel, U.S. FDA, Gary Smith, National Cancer Institute, Joseph Unger, Fred Hutchinson Cancer Center
Panel 2 Participants: Peter Trask, Genentech (Moderator), Vishal Bhatnagar, U.S. FDA, Serban Ghiorghiu, AstraZeneca, Kristin McJunkins, Patient Advocate, Devin Peipert, Northwestern University
Panel 3 Participants: Colleen Mockbee, OncXerna Therapeutics (Moderator), Lola Fashoyin-Aje, U.S. FDA, OCE, Keith Flaherty, MGH Cancer Center, Harvard Medical School, David Hyman, Loxo@Lilly, Anne Quinn Young, Multiple Myeloma Research Foundation, Craig Tendler, Janssen
To view the full recording of the event, click here.