Dear Advocates,
Welcome to the third edition of the Friends of Cancer Research (Friends) Quarterly Patient Advocate Newsletter. We're excited to share more about what we've been working on at Friends and let you know about upcoming public events and research milestones. Here's what you can read more about in this newsletter:
What's Happening at Friends?: Friends will host a public meeting on September 26th to discuss the use of digital pathology in drug development. Here we provide some background and context for the upcoming event.
Mark Your Calendars: Upcoming events to look out for, including public meetings hosted by Friends and other external conferences.
Scientific Articles in the News: Recent scientific articles in the news and other news articles highlighting topics related to Friends' work and other topics impacting cancer care and drug development.
FDA & Policy Updates: FDA activities and policy developments related to Friends' work.
Did You Know?: Quick facts and infographics.
In Case You Missed It: Recaps of recent events and links to new publications and content from Friends.
We hope this newsletter serves as an ongoing resource covering topics pertinent to patient advocates. If there are specific topics you want to hear more about, have questions or comments, or would like to get more involved in Friends' work, we encourage you to fill out our Feedback Form or Interest Form.
What's Happening at Friends in 2023?
Future in Focus: Digital Pathology in Oncology Drug Development
In traditional pathology, a pathologist uses a microscope to examine tissue from a biopsy on glass slides to see how the cells in the tissue look. Pathologists use this process to diagnose cancer, determine the type and stage of cancer, and look for biomarkers that indicate a patient is likely to respond to certain targeted therapies. Technological advancements have enabled innovative approaches to these assessments called digital pathology. In digital pathology, slides are scanned using a process similar to a camera attached to a microscope, then digitized for storage, viewing, and analysis. Sometimes, analysis can include the use of artificial intelligence (AI)/machine learning (ML) algorithms to aid the pathologist in assessment of the tissue. Digital pathology has the potential to enable greater efficiency, accuracy, reproducibility, and standardization, all of which can support improved patient outcomes.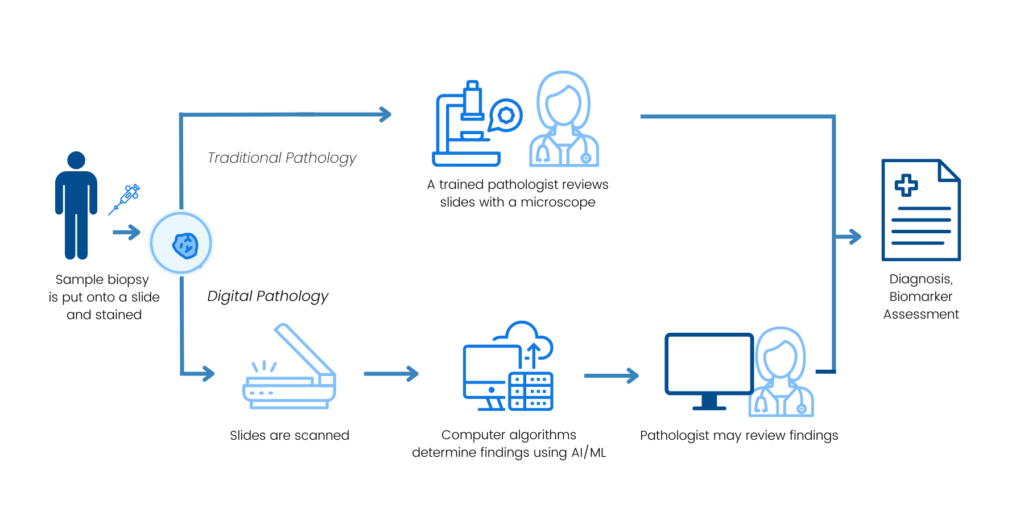 Previous Friends' efforts have assessed sources of variability in biomarker assessments using diagnostic tests and identified opportunities to harmonize methodology to support aligned measurement and use (i.e., the TMB Harmonization Project and the HRD Harmonization Project). Like with these diagnostic tests, there may be differences between digital pathology platforms in how the tools measure specific biomarkers on the digitized tissue images. These differences introduce additional complexity to the measurement of biomarkers and may lead to variability in the results generated from different digital pathology tools. As digital pathology continues to advance, it will be important to understand the comparability of biomarker measurements across digital pathology tools, identify factors that may contribute to any variability observed, and propose areas for alignment.
On September 26th, Friends will host a virtual public meeting to discuss unique clinical, scientific, and regulatory challenges to use of digital pathology in oncology drug and diagnostic development. The panel discussions and meeting white paper will outline proposals to facilitate robust development of digital pathology tools. These discussions will help to realize the full potential of digital pathology tools and ensure patients and providers receive accurate and reliable results regardless of the platform used. We invite you to register for the meeting here.
Scientific Articles in the News
In April, the National Cancer Institute published a study outlining opportunities to achieve President Biden's Cancer Moonshot goal of reducing cancer death rates in the United States.
In July, President Biden announced the first cancer-focused initiative under the new Advanced Research Projects Agency for Health (ARPA-H). The Precision Surgical Interventions program seeks to develop novel technologies to allow for more precise and accurate surgical intervention in cancer treatment.
Biden also created a new fellowship that aims to diversify the cancer research workforce. The 11 "cancer moonshot scholars" will focus on research to improve prevention and early detection of cancer.
The Accelerated Approval pathway enables an FDA approval based on an early endpoint that is reasonable likely to predict clinical benefit for promising therapies intended to treat serious, life-threatening conditions.
In Case You Missed It (Jun. 15th - Sept. 15th)
Friends' Meeting Recaps
On July 11th, Friends hosted "Establishing Evidence: New Advancements Using ctDNA." Read the recap or rewatch the meeting here.
On September 11th, Friends hosted, "Supporting the Use of RWD in Oncology Drug Development." Rewatch the meeting here.
Friends' Recent Manuscripts
Friends and ASCO have been working together to understand sponsor perspectives on the impacts of COVID on clinical trial designs. A recently published manuscript highlights that fast action from the NIH and FDA in providing guidance about how to run clinical trials during the pandemic led to a perceived minimal impact of the pandemic on trial integrity. Unger, J, Stires, H, et al. Sponsor Perspectives on the Impact of the COVID-19 Pandemic on Interventional Cancer Clinical Trial Protocols and Data Quality. JCO Oncology Practice OP2300185. doi: 10.1200/OP.23.00185
ProgressforPatients.org is an online advocacy education program created by Friends to help patients, advocates, and caregivers acquire the necessary tools to effectively communicate with drug researchers, developers, and regulators. If you're interested, we encourage you to take our free advocacy education course found here.