Dear Advocates,
Welcome to the second edition of the Friends of Cancer Research (Friends) Quarterly Patient Advocacy Newsletter. Here's what you can read more about in this newsletter:
What's Happening at Friends in 2023? Friends recently presented new results from several of our initiatives at the American Society of Clinical Oncology (ASCO) Annual Meeting. Here we provide an overview of the results and why they matter.
Mark Your Calendars: Upcoming events to look out for, including external conferences and public meetings hosted by Friends and other external conferences.
Scientific Articles in the News: Recent scientific articles in the news and other news articles highlighting topics related to Friends work and other topics making a large impact on cancer care and drug development.
FDA & Policy Updates: FDA activities and policy developments related to Friends' work.
Did You Know? Quick facts and infographics.
In Case You Missed It: Recaps of recent events and links to new publications and content from Friends.
We hope this newsletter serves as an ongoing resource covering topics pertinent to patient advocates. If there are specific areas you want to hear more about, have questions or comments, or would like to get more involved, we encourage you to fill out our Newsletter Feedback Form or Interest Form.
What's Happening at Friends in 2023?
Last week at the 2023 ASCO Annual Meeting, Friends presented new results from several projects: ctMoniTR Step 2, rw-Response, and the ASCO-Friends project. Here are some key takeaways from those presentations and why these results matter:
Changes in ctDNA levels as an early indicator of outcomes in advanced NSCLC treated with TKI: Initial findings from a retrospective aggregate analysis of 8 clinical trials
Circulating tumor DNA (ctDNA) shows promise as an early endpoint to support drug development and regulatory decision-making. Friends aggregated data from 8 clinical trials in patients with advanced non-small cell lung cancer (aNSCLC) treated with tyrosine kinase inhibitors (TKIs) to understand the relationship between changes in ctDNA levels and clinical outcomes. The analysis showed that when ctDNA was not detected within the first 10-weeks of treatment, patients had the best outcomes (i.e., progression-free and overall survival) compared to when ctDNA was detected during the same time frame. These findings suggest ctDNA may be able to be used to assess response to treatment in patients treated with TKIs as early as 10-weeks after start of therapy. Read the ASCO abstract here and register for Friends' ctDNA meeting on July 11 to learn more here.
Real-world response endpoints in patients with mNSCLC treated with chemotherapy across real-world datasets
Clinical trials often measure response to treatment, such as evaluating a reduction in tumor size using imaging, as an early indication of treatment activity. While measurement of response in clinical trials is often based on the evaluation of radiographic images at prespecified time points, in real-world clinical practice there may be variation in when and how response is evaluated and reported. To build on previous work in our real-world evidence (RWE) portfolio which aims to support use of real-world data (RWD) for regulatory decision-making, Friends convened stakeholders and conducted an analysis across seven electronic health record (EHR) data aggregators to assess the availability of data components that measure real-world response rate (rwRR) and evaluated the consistency of the measure across sources. The analysis showed measurement of response was consistent across data sources and demonstrated the feasibility of measuring rwRR based on clinician assessments reported in the EHR. Future work to use RWD to measure response has the potential to inform the evaluation of drug effectiveness in real-world patient populations. Read the ASCO abstract here and register for Friends' RWE meeting on September 11 to learn more here.
Impact of COVID-19 pandemic mitigation strategies on industry and NCI cancer treatment trials
The COVID-19 pandemic disrupted enrollment and conduct of cancer treatment trials. As a result, regulators encouraged flexibility in trial processes to support continuity in clinical research and care. An analysis of surveys and interviews with pharmaceutical companies and National Cancer Institute (NCI) cooperative groups indicated wide adoption of mitigation strategies such as telemedicine and remote informed consent discussions. Despite adoption of flexibilities which were sometimes considered clinical trial protocol deviations pre-pandemic, survey and interview participants perceived minimal impact on trial data integrity. These results provide support for continued adoption of mitigation strategies in future clinical trials. Incorporating these flexibilities in future clinical trials can help to improve access to clinical trials for patients. Read the ASCO abstract here.
Scientific Articles in the News
National Cancer Institute National Cancer Plan
The National Cancer Institute (NCI) released its National Cancer Plan in April. The plan outlines eight key goals for continuing progress against cancer and strategies for achieving those goals.
American Association for Cancer Research (AACR) Cell and Immunotherapy Highlights
At AACR in April, exciting new results from a clinical trial showed a new vaccine-immunotherapy combination therapy prevented relapse in patients with advanced melanoma.
ASCO Annual Meeting Highlights
At ASCO, results from several clinical trials showed various currently FDA-approved therapies could benefit more patients
The CAR T cell therapy axicabtagene ciloleucel reduced the risk of death by 27% compared to the current standard of care for second-line treatment of patients with early relapsed or refractory large B-cell lymphoma.
Adjuvant treatment with osimertinib achieved unprecedented survival in patients with completely resected, EGFR-mutated, stage IB to IIIA NSCLC.
Early trial data showed the antibody treatment trastuzumab deruxtecan has promising pan-tumor activity in patients with various types of HER2-expressing solid tumors.
Guidance Background
The FDA publishes guidance documents to communicate their current thinking and expectations on a variety of drug development and regulatory decision-making topics. Initially, FDA publishes a draft version of the guidance document and allows stakeholders to submit public comments providing feedback highlighting where the guidance is helpful and where it could be improved. The FDA then revises the guidance based on public feedback and publishes a final version. Below are several recently published draft guidance documents on topics important to cancer drug development.
Clinical Trial Considerations to Support Accelerated Approval of Oncology Therapeutics
Draft Guidance, March 2023; Read Friends' Comment and Learn more here
Marketing Submission Recommendations for a Predetermined Change Control Plan for Artificial Intelligence/Machine Learning (AI/ML)-Enabled Device Software Functions
Draft Guidance, April 2023; Comments Due July 3 and Learn more here
Patient-Focused Drug Development: Incorporating Clinical Outcome Assessments Into Endpoints for Regulatory Decision-Making
Draft Guidance, April 2023; Comments Due July 5 and Learn more here
Decentralized Clinical Trials for Drugs, Biological Products, and Devices
Draft Guidance, May 2023; Comments Due August 1 and Learn more here
Pediatric Drug Development Under the Pediatric Research Equity Act and the Best Pharmaceuticals for Children Act
Draft Guidance, May 2023; Comments Due July 17 and Learn more here
Pediatric Drug Development: Regulatory Considerations — Complying with the Pediatric Research Equity Act and Qualifying for Pediatric Exclusivity Under the Best Pharmaceuticals for Children Act
Draft Guidance, May 2023; Comments Due July 17 and Learn more here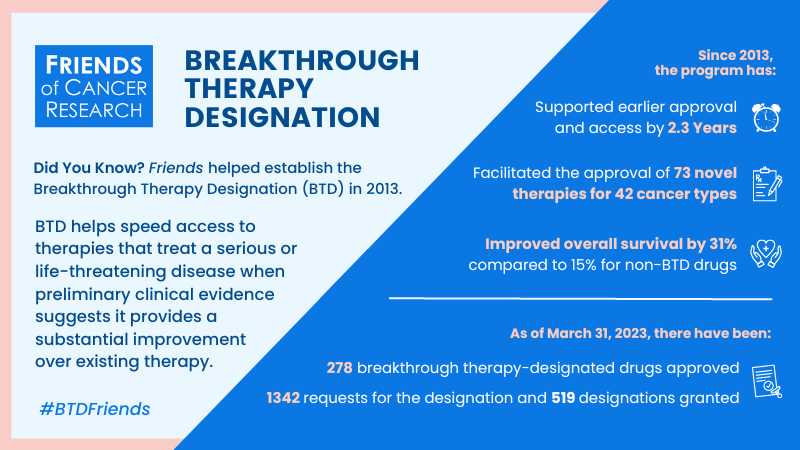 On May 22nd, Friends hosted the second in our series of two meetings this year on cell and gene therapies. The hybrid meeting focused on development strategies and policy changes to support timely development and evolution of next-generation cellular therapies. Read more here.