Panel 1 Whitepaper – Panel 1 Slides
Panel 2 Whitepaper – Panel 2 Slides
Panel 3 Whitepaper – Panel 3 Slides
This year's Friends Annual Meeting took place on November 15, 2017. The event began with a keynote by FDA Commissioner Dr. Scott Gottlieb. During his remarks, Dr. Gottlieb reiterated previous commitments for the FDA to get products to the market quickly, safely, and effectively. He acknowledged that the agency's structure should reflect this goal and be updated to better respond to technological updates. He also discussed the newly created FDA Oncology Center of Excellence and emphasized how vital full funding is to the Center's ability to execute its work of streamlining the review process and role as a model for other diseases. Inadequate funding would likely create uncertainty in the model that the Center is intended to demonstrate.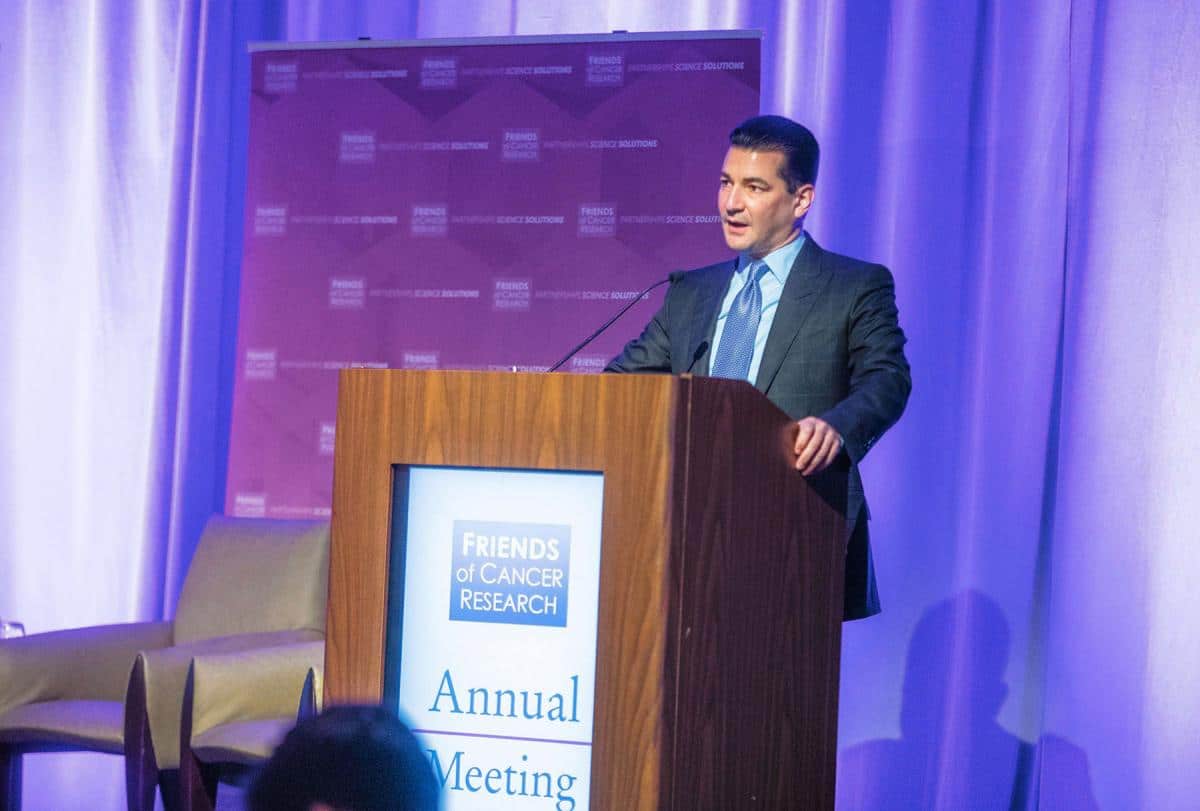 FDA Commissioner Dr. Scott Gottlieb gives opening remarks at the 2017 Annual Meeting
Panel 1: Capitalizing on the Totality of Evidence to Streamline Approvals for Supplemental Indications
The first panel discussed opportunities to move rapidly from an initial FDA approval of a drug to broader approvals in supplemental indications. Approved drugs are accompanied by a wealth of high-quality data from previous submissions, along with post-marketing experience and published literature, that may help expedite approval of drugs in new indications based on intermediate endpoints. The panel, led by Dr. George Demetri, presented the strategy and framework outlined in the white paper to aid in examining unmet clinical need of a patient population and leveraging the totality of evidence available for an approved drug to determine whether there is sufficient data to support full approval for a supplemental indication based on an intermediate endpoint. Dr. Marian Johnson-Thompson, a patient advocate with Susan G. Komen, stressed the importance of maintaining high standards and safety while balancing the need to address unmet clinical needs for patients.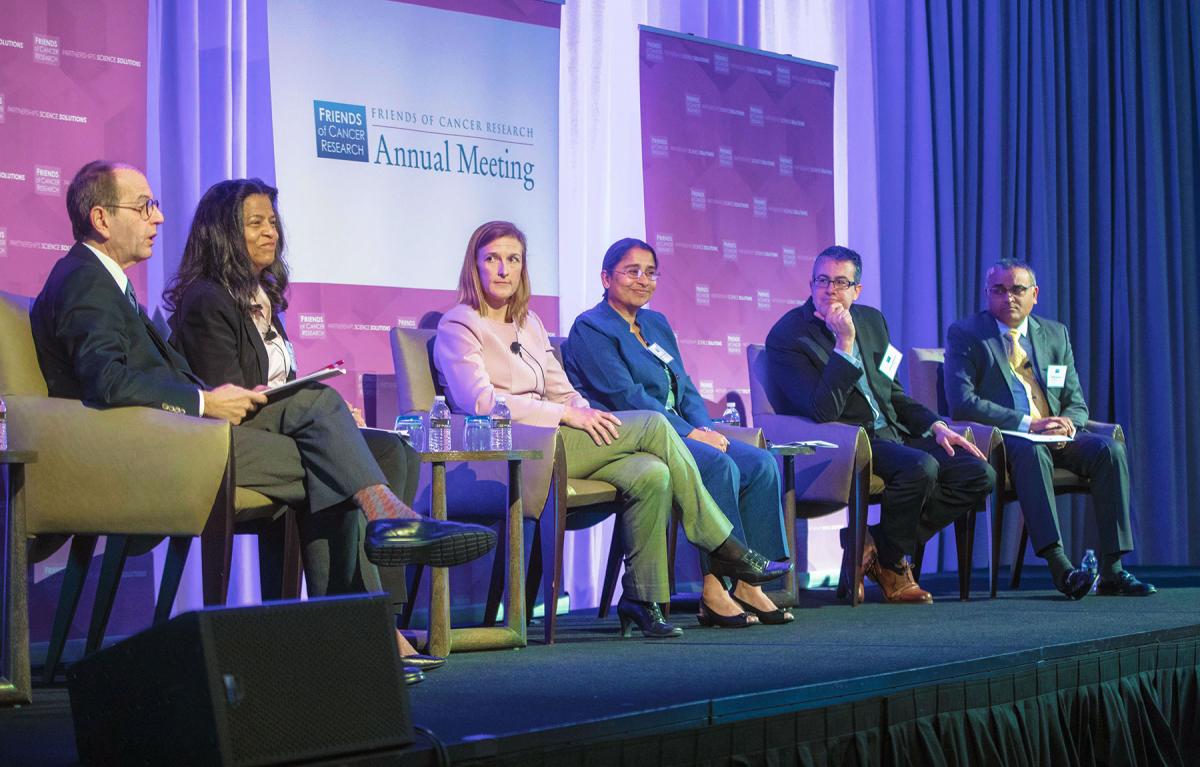 Panel 1 responds to questions from the audience on capitalizing on the totality of evidence to streamline approval for supplemental indications.
From L-R: George Demetri, Marian Johnson-Thompson, Amy McKee, Shanthi Ganeshan, Jordan Schecter, Pratik Multani
Dr. Amy McKee of the FDA presented several examples where FDA gave full approval for a supplemental indication based on trial designs and endpoints that would traditionally result in an accelerated approval. Dr. McKee explained that in these instances response rates and safety data were very similar to previous submissions in other approved indications and fulfilled an unmet clinical need. Dr. Shanthi Ganeshan of Novartis Pharmaceuticals indicated that many stakeholders are already utilizing aspects of the framework and that this white paper will enable a more systematic and streamlined approach to readily incorporate this into clinical development programs. Approving drugs in earlier lines of therapy can be challenging, and Dr. Jordan Schecter of Janssen and Dr. Pratik Multani of Ignyta highlighted how the approach of capitalizing on the totality of evidence could be utilized in studies in disease interception and streamlining an approach to expediate approval of drug combinations. Future efforts include striving to better understand the limitations and capabilities of data collected outside of a traditional clinical trial to assess long-term safety and efficacy and refining our understanding of surrogate endpoints early in the disease continuum.
 
Panel 2: Data Generation to Support Cross-labeling of Indications for Combination Products
The second panel discussed the need to expeditiously study combination therapies by gauging the level of evidence already available and designing more efficient clinical trials. Additionally, the panel outlined current regulatory policy regarding cross-labeling and the potential legal implications that could occur as cross-labeling of drugs within a combination regimen become more common. The panel agreed that cross-labeling is an important step to ensuring parity in communication of optimal treatments for cancer patients and encouraging high-quality care. Dr. Kenneth Anderson from Dana-Farber Cancer Institute moderated the panel and opened the panel discussion by encouraging the use of innovative clinical trial designs to quickly generate the necessary safety and efficacy data and encourage combination therapy development. Dr. Jim Omel, a cancer research advocate, implored all stakeholders to make clinical trials more patient friendly and ensure clinical trials are designed to help cancer patients—not to only answer a scientific question.
Dr. Ann Farrell of the FDA presented FDA's current approach to combination therapy approvals. She also outlined the role of master protocols, and the role of innovative trial designs and real-world data to assess the contributions of each component in a combination therapy to serve as a guide for future clinical development programs. This discussion was followed-up by Dr. Roger Dansey from Merck Research laboratories who highlighted current combination drug development challenges and proposed alternative multi-arm designs that may help reduce the necessary number of patients, decrease trial duration, and avoid repeated generation of similar data. The panel discussions concluded with an overview of current regulatory requirements for labeling under the Drug Price Competition and Patent Term Restoration Act, also known as the Hatch-Waxman Act, by James Myers of the FDA. Marc Scheineson of Alston & Bird LLP discussed the legal ramifications for cross-labeling and listed several strategies to encourage cross-labeling of products that range from FDA encouraging collaboration among drug sponsors to streamlining processes for cross-labeling to establishing legislation to create incentives for cross-labeling. Future efforts will be directed at ensuring the necessary information is available to facilitate the use of innovative trial designs and encourage collaboration to ensure high-quality data are on FDA labels to inform patients' treatment decisions.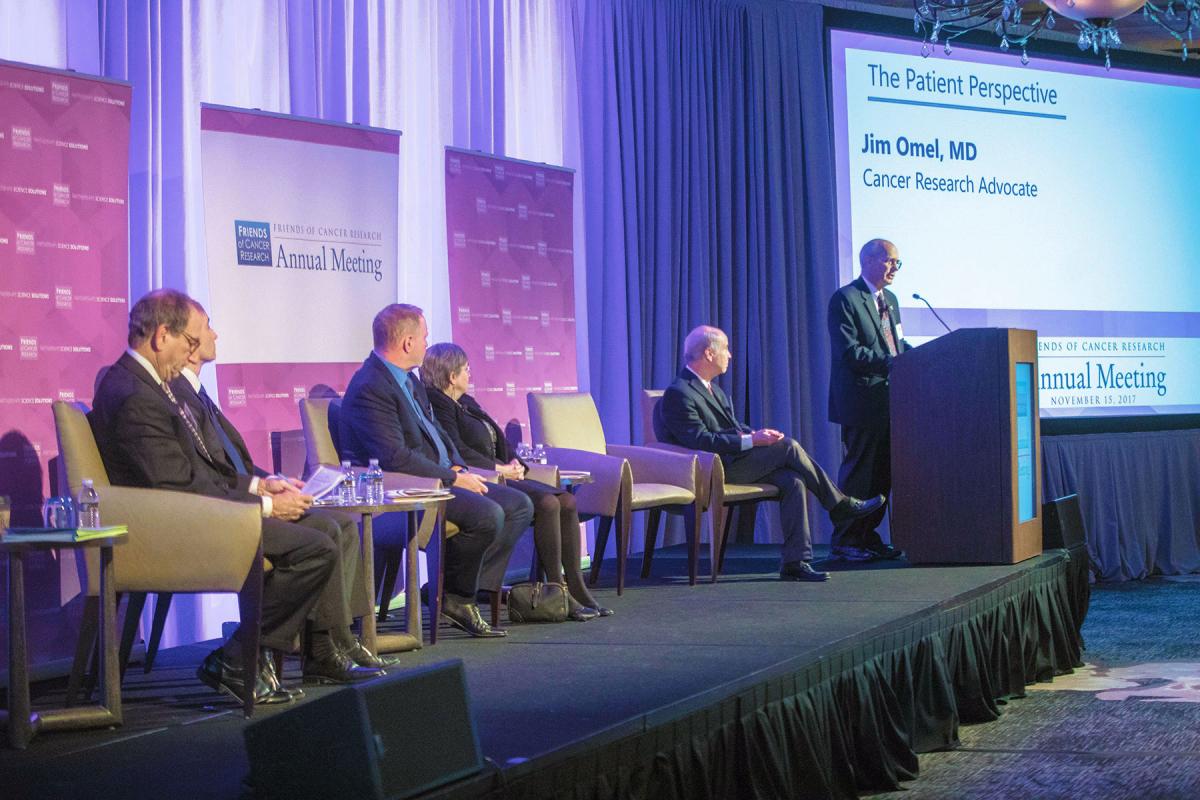 Panel 2 discusses data generation to support cross-labeling of indications for combination products.
From L-R: Marc Scheineson, James Myers, Roger Dansey, Ann Farrell, Kenneth Anderson, Jim Omel
Lunch Conversation
This year, the lunch conversation included the newly appointed NCI Director Dr. Norman Sharpless, Dr. Richard Pazdur of the FDA, and Ellen Sigal of Friends. Both Dr. Sharpless and Dr. Pazdur were asked about the priorities of their respective agencies and how these can best help patients. During the conversation, Dr. Sharpless and Dr. Pazdur stressed the need for collaboration and a relationship between FDA and NCI, particularly in the pre-approval setting where FDA can provide insights into clinical trial design strategies and approaches. Dr. Pazdur went on to state that he thinks the next HHS Secretary should create a more dynamic relationship with FDA and the NCI. Dr. Pazdur also mentioned the FDA Oncology Center of Excellence and how it needs a revival of awareness since it was part of the Obama Administration's National Cancer Moonshot Initiative and is currently not fully funded.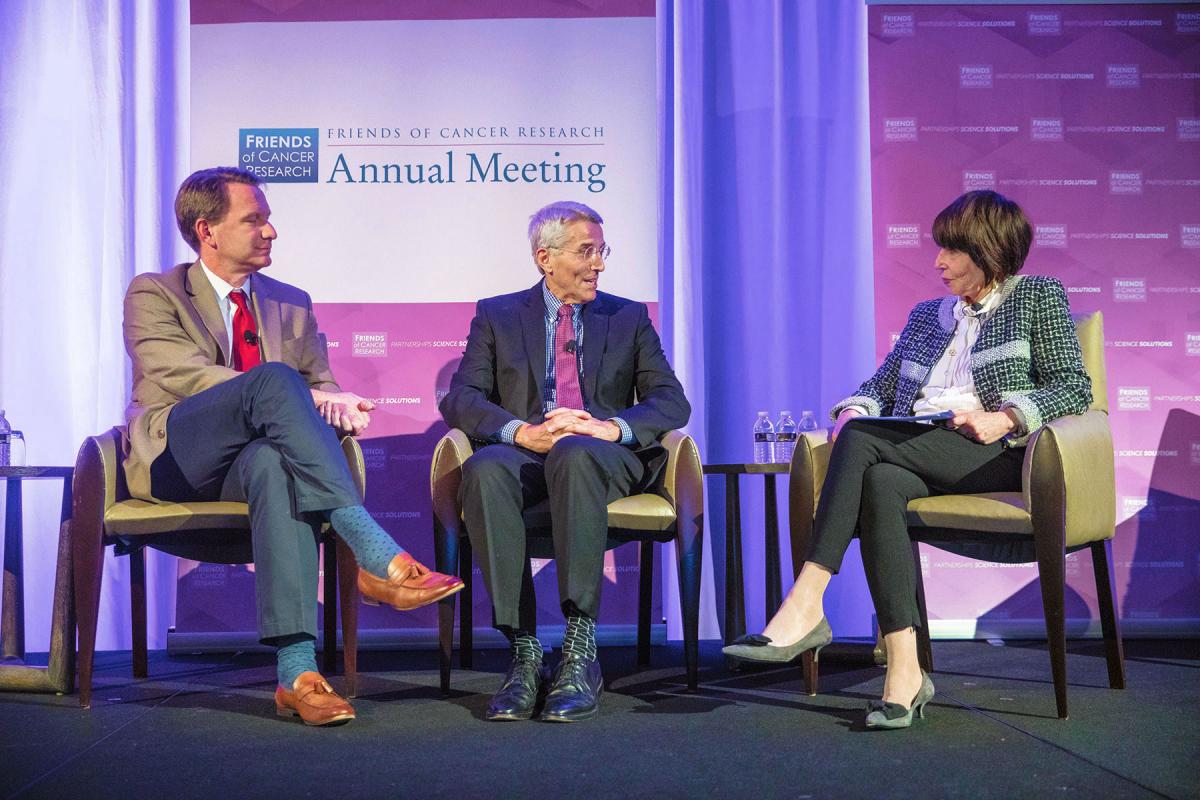 NCI Director Dr. Norman Sharpless, Director of the FDA Oncology Center of Excellence Dr. Richard Pazdur,
and Ellen Sigal discuss the need for collaboration and partnership between FDA and NCI
Panel 3: Updating Outdated Product Labels
The final panel discussed methods of updating outdated prescription drug labeling. Findings from research conducted by Friends prior to the meeting showed that the labels of most cancer drugs—nearly 80%– do not include the most current data regarding a drug's efficacy. When drugs are first approved, the FDA-approved labeling is the most comprehensive and reliable source of information about a product. However, over time, a drug may be used off-label in new treatment settings, leading independent investigators to conduct clinical trials measuring the drug's impact beyond its approved uses. Often these trials produce practice-changing results, supporting the inclusion of a new use on clinical guidelines and payment from insurers. Far too often, however, such new information is not added to a drug's labeling, causing it to rapidly fall out of date. As labels fall out of date they lose value for prescribers and impede the FDA's ability to communicate important information about drug products.
The panel, moderated by Dr. Jeff Allen of Friends of Cancer Research, presented a straw man proposal to facilitate more timely label updates. The straw man proposal outlined a process whereby the FDA would work with expert disease groups to synthesize available post-market data about prescription drugs and then evaluate which data should be reflected on drug labeling. The FDA's Dr. Janet Woodcock highlighted the Agency's past efforts to bring labeling more up to date, including a past initiative in which the Agency worked with a private contractor to assess available evidence and suggest labeling updates. This initiative failed due to poor competence on the part of the contractor. She also described an unintended consequence of the current generic drug legal framework which allows certain product labels to become static as innovator products exit the market. Linda House of Cancer Support Community then described her past experience as an oncology nurse and the difficulties she faced interpreting and communicating the contents of product labeling to patients where inclusion of more patient-centered information on a label could improve medical care. Dr. Angela Green of Memorial Sloan Kettering Cancer Center shared her experiences as a practicing oncologist, describing the low frequency of use of product labels in that community currently. Finally, Josephine Torrente from Hyman, Phelps & McNamara PC and Rachel Sher from the Association for Accessible Medicines provided legal commentary on the straw man proposal outlined in the Friends white paper, highlighting that while the proposal was feasible under current law, it was not likely to gain traction due to the burdens it placed on generic firms to participate in labeling updates. However, all members of the panel regarded an effort to update product labeling as a worthwhile pursuit, one that would increase the quality of evidence disseminated to prescribers and patients.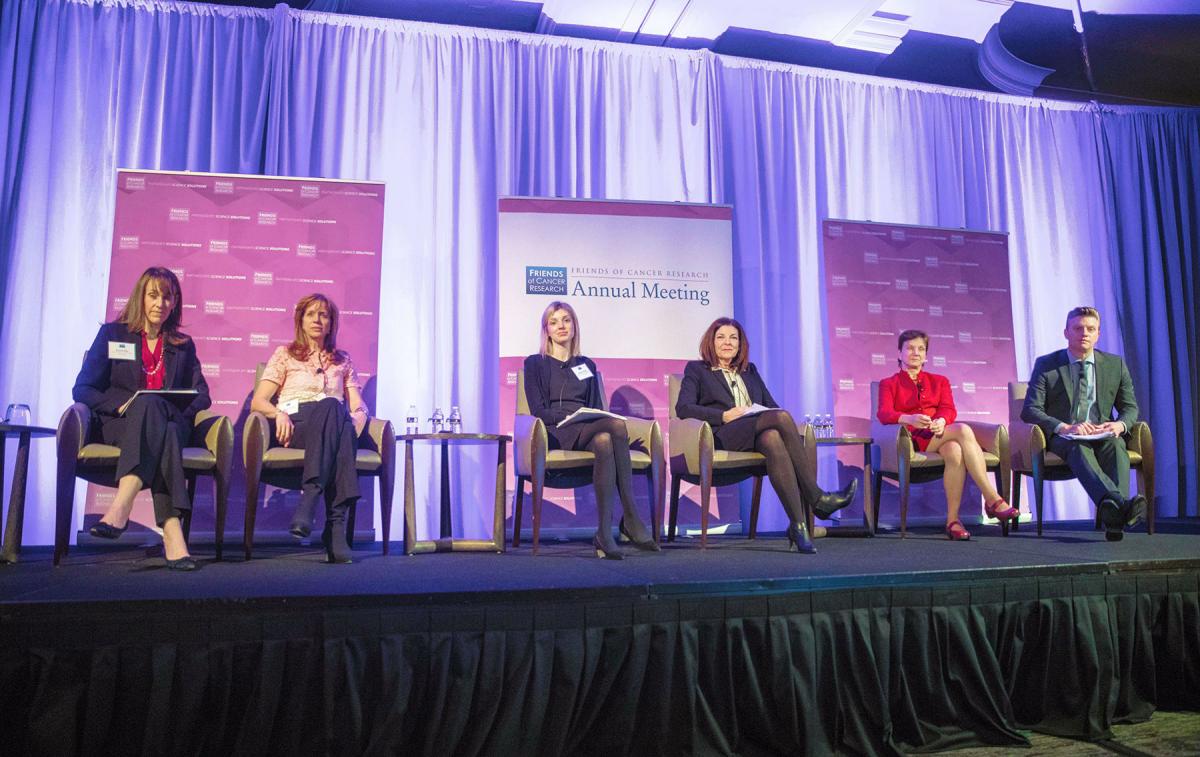 Panel 3 listens and responds to audience questions on updating outdated product labels
From L-R: Rachel Sher, Josephine Torrente, Angela Green, Linda House, Janet Woodcock, Jeff Allen