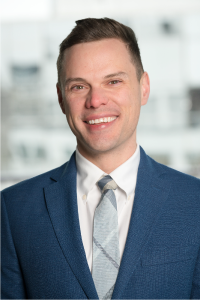 Ryan Hohman currently serves as Vice President – Public Affairs at Friends of Cancer Research (Friends). For more than 25 years, Friends has been instrumental in the creation and implementation of policies ensuring patients receive the best treatments in the fastest and safest way possible.
At Friends, Ryan leads the organization's comprehensive communications, federal affairs and advocacy relations strategies. By building powerful public-private collaborations and innovative programs, Ryan guides the development and execution of patient-focused regulatory policy that strengthen the U.S. Food and Drug Administration and all federal health and research institutes.
Ryan has the privilege of serving in leadership and advisory roles of organizations and public-private partnerships who share Friends' mission, including: Chair, Lung-MAP Clinical Trial Accrual Enhancement Committee; Food and Drug Law Institute, Patient Organization Engagement Committee; Project TEACH Steering Committee; Patient Advisory Council Member, Enroll America; Principles Working Group, National Dialogue for Healthcare Innovation; Strategic Advisory Committee, The Ruesch Center for the Cure of Gastrointestinal Cancers at Georgetown – Lombardi CCC; and the Advisory Council, Capital Breast Care Center. Ryan previously was Friends'  Managing Director. 
During his diverse career, Ryan has experienced first-hand the vital need and incredible impact that sustained federal funding of biomedical research and sound science-based policy has on the on physicians, researchers, and patients and the difficulties many of these communities face when engaging in and navigating the regulatory process. Before joining Friends, Ryan was Director of Corporate and Institutional Partnerships at Georgetown University Medical Center-Lombardi Comprehensive Cancer Center.  While at Georgetown, Ryan focused on the development and execution of strategic corporate and philanthropic engagement to support the center's biomedical research and cancer treatment and education programs.  During this time, Ryan was appointed to the Board of Directors of the Cancer Research Alliance and worked to support and expand the programs of the Capital Breast Care Center, which provides comprehensive, culturally appropriate breast cancer screening services and health education to women in the Washington, DC metropolitan area. 
Prior to his time at Georgetown, Ryan was an associate with a DC & Boston-based public relations firm, specializing in health and trade association media and governmental strategy. Ryan has also served in numerous political campaigns and offices, including: former Senate Majority Leader Tom Daschle's 2004 Senate race, Senator John Edwards' Presidential Campaign, and at the Democratic National Committee under then Chairman Terry McAuliffe.   
Ryan received his Jurist Doctorate from Georgetown Law, a Master in Public Administration from Harvard Kennedy School of Government, and a Bachelors in Political Science from the University of North Carolina Wilmington.