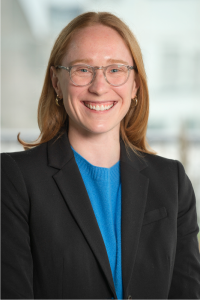 Grace Collins serves as a Regulatory Policy Analyst at Friends of Cancer Research (Friends). Friends is an advocacy organization based in Washington, DC that drives collaboration among partners from every healthcare sector to power advances in science, policy, and regulation that speed life-saving treatments to patients. 
Grace works closely with the Science Policy and Public Affairs teams, conducting research to support development and implementation of the organization's science, policy, and advocacy initiatives. In her role she develops Friends' series of interactive dashboards that provide a publicly available tool for gaining data-driven insights on the landscape of oncology drug development. Her work will improve care for cancer patients and survivors, facilitate dialogue between stakeholders through the organization of conferences and symposia, and continue advocating on behalf of cancer patients and survivors. 
Prior to joining Friends, Grace worked as a Legislative Intern in the United States Senate Office of Senator Maggie Hassan where she supported work on health-related legislative priorities. Grace also worked at several community health centers where she supported implementation of health education programs for patients and conducted research to support development of policies and programs that enable more equitable healthcare.
Grace received her Bachelor of Science in Public Health from the George Washington University's Milken Institute School of Public Health.