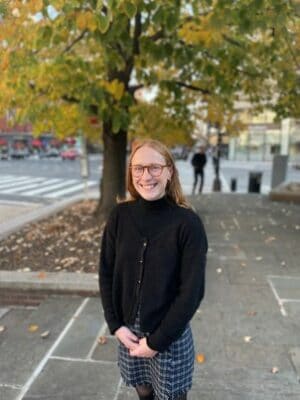 Grace Collins serves as a Regulatory Policy Analyst at Friends of Cancer Research (Friends). Friends is an advocacy organization based in Washington, DC that drives collaboration among partners from every healthcare sector to power advances in science, policy, and regulation that speed life-saving treatments to patients. For more than two decades, Friends has been instrumental in the creation and implementation of policies ensuring patients receive the best treatments in the fastest and safest way possible.
At Friends, Grace works closely with the Science Policy and Public Affairs teams, conducting research to support development and implementation of the organization's science, policy, and advocacy initiatives. Her work will improve care for cancer patients and survivors, facilitate dialogue between stakeholders through the organization of conferences and symposia, and continue advocating on behalf of cancer patients and survivors.
Grace received her Bachelor of Science in public health from the Milken Institute School of Public Health at George Washington University. While pursuing her undergraduate degree, Grace worked as a Legislative Intern in the US Senate office of Sen. Maggie Hassan and for various non-profit organizations focused on healthcare and health equity.