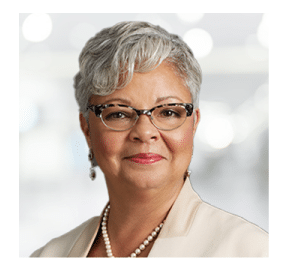 A pioneer in medicine and leadership, Freda Lewis-Hall, MD, DFAPA, MFPM has been on the frontlines of healthcare for more than 40 years as a clinician, researcher, and leader in the biopharmaceuticals and life sciences industries.
A passionate advocate for health equity and improved outcomes for all patients, Dr. Lewis-Hall served in multiple leadership positions in the pharmaceutical industry. She is widely regarded for expanding outreach to patients, reshaping the focus on patient engagement and inclusion, improving health information and education, and amplifying the voice of the patient within company culture and decision-making.
Most recently at Pfizer, Inc, Dr. Lewis-Hall served more than ten years on the executive leadership team as executive vice president, chief medical officer, and later chief patient officer. Her tenure at Pfizer was devoted to ensuring the safe, effective, and appropriate use of medicines and vaccines.
Prior to joining Pfizer, Dr. Lewis-Hall held various senior leadership roles within the industry including chief medical officer and executive vice president, medicines development at Vertex Pharmaceuticals; senior vice president, U.S. medical affairs at Bristol-Myers Squibb; vice president, research and development, product development at Pharmacia Corporation; and as a product team leader and director at Eli Lilly and Company.
Before entering the biopharmaceutical industry, Dr. Lewis-Hall served as vice chairperson and associate professor in the Department of Psychiatry at Howard University College of Medicine and as an advisor to the National Institute of Mental Health. Trained as a psychiatrist, she began her medical career in frontline patient care and became well known for her work on the impact of mental illness on families and communities and on issues of healthcare disparities.
Appointed by the Obama Administration in 2010, she recently completed a decade of service on the inaugural Board of Governors for the Patient-Centered Outcomes Research Institute (PCORI). Dedicated to building the next generation of leaders in her field, Dr. Lewis-Hall currently serves on the Board of Fellows of The Harvard Medical School, and the Board of Advisors of the University of Texas at Austin Dell Medical School.
While building a pipeline of leaders, Dr. Lewis-Hall continues her commitment to health, science, and advocacy by serving on the Boards of the Foundation of the National Institutes of Health, The Novel and Exceptional Technology and Research Advisory Board of the National Instiutes of Health, The Milken Institute's FasterCures Center, the Prostate Cancer Foundation, the Davos Alzheimer's Collaborative, and the Dalio Center for Health Justice at NewYork-Presbyterian. Dr. Lewis-Hall currently serves on the corporate boards of 1Life Healthcare, Inc., a health services company; Exact Sciences, Inc., a molecular diagnostics company; and SpringWorks Therapeutics, a biopharmaceutical company. She also is a member of the ethics advisory board for Illumina, Inc., a genetic sequencing company.
In addition to being co-editor of the book, Psychiatric Illness in Women: Emerging Treatments and Research, Dr. Lewis-Hall is a recognized face and voice, providing health and wellness education on national TV and radio shows, magazines, and websites. For nearly a decade, she was a regular guest providing practical, easy to understand health advice on Dr. Phil and The Doctors. She has also appeared on the THE REAL, was a featured speaker at TEDMed, and hosted The Urban Health Report for PBS for 5 years, and many other media appearances. She was named "Woman of the Year" by the Healthcare Businesswomen's Association, one of the "Notable Women in Technology" by Crain's New York Business, and among the "50 Most Powerful Women in Corporate America"" and "Most Powerful Executives in Corporate America" by Black Enterprise magazine.
A graduate of Johns Hopkins University and Howard University College of Medicine, she is an Honorary Fellow of the Faculty of Pharmaceutical Medicine of the Royal College of Physicians of the United Kingdom, and Distinguished Fellow of the American Psychiatric Association.