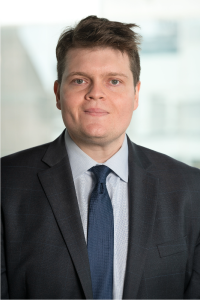 Finn serves as a Manager of Public Affairs for Friends of Cancer Research (Friends). Friends is an advocacy organization based in Washington, DC that drives collaboration among partners from every healthcare sector to power advances in science, policy, and regulation that speed life-saving treatments to patients.
At Friends, Finn manages the organization's communications and advocacy campaigns. This includes social media, email marketing, and public facing content.
Before joining Friends, Finn worked as a Public Policy Director for the Alzheimer's Association. His work focused on issue advocacy campaigns and health access. This included lobbying members of congress and collaborating with organizations working to bring breakthrough Alzheimer's treatments to patients.
Prior to working at the Alzheimer's Association, Finn worked as an Associate in the Office of Access and Success at the Association of Public and Land Grant Universities: an association representing all public research universities in the country. His work focused on building congressional support to advance funding and support for Historically Black Colleges and Universities in addition to Hispanic Serving Institutions.
Finn has held roles on political campaigns, as a communications consultant for healthcare systems, and in the Obama White House. Finn graduated from The University of Vermont in 2012 with a B.A. in African History and a B.A. in Political Science.