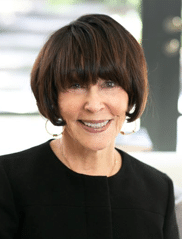 Ellen V. Sigal, PhD, is Chairperson and Founder of Friends of Cancer Research (Friends), a think tank and advocacy organization based in Washington, DC. Friends drives collaboration among partners from every healthcare sector to power advances in science, policy, and regulation that speed life-saving treatments to patients. During the past 25 years, Friends has been instrumental in the creation and implementation of policies ensuring patients receive the best treatments in the fastest and safest way possible.  
Dr. Sigal holds leadership positions with a broad range of cancer advocacy, public policy organizations and academic health centers including the MD Anderson Cancer Center External Advisory Board and the inaugural board of advisors for the George Washington University's Milken Institute of Public Health.

 

She currently serves on the Board of the Foundation for the National Institutes of Health, where she chairs its Governance Committee. 

 
Dr. Sigal most recently served for 10 years as Chair of the inaugural board of directors of the Reagan-Udall Foundation, which was authorized by congress and designed to modernize medical product development, accelerate innovation, and facilitate public private partnerships. enhance product safety in collaboration with the U.S. Food and Drug Administration.

 

Beginning in 2010, Dr. Sigal was appointed for two consecutive six-year terms on the Board of Governors of the Patient Centered Outcomes Research Institute (PCORI) as a representative of patients and health consumers.

 

She also served on the Advisory Board of the COVID-19 Evidence Accelerator – a partnership between the Reagan-Udall Foundation and Friends of Cancer Research with participation from the FDA.

 

Additionally, over the past several years Dr. Sigal was named to then Vice President Biden's Cancer Moonshot Blue Ribbon Panel and to the Parker Institute for Immunotherapy Advisory Group.

 
Dr. Sigal received her PhD in Russian History from Rutgers University and holds a BA from Brooklyn College.