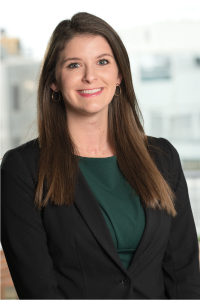 Brittany Avin McKelvey serves as the Director of Regulatory Affairs at Friends of Cancer Research (Friends). Friends is an advocacy organization based in Washington, DC that drives collaboration among partners from every healthcare sector to power advances in science, policy, and regulation that speed life-saving treatments to patients.
Brittany supports the development and implementation of the organization's research and policy agenda. She leverages her patient advocacy and scientific background to generate scientific evidence and policies to advance progress in oncology care. She collaborates with diverse stakeholders to inform policy objectives and execute evidence-based research projects. 
Prior to joining Friends, Brittany worked for the American Cancer Society Cancer Action Network (ACS CAN) as a Policy Fellow, conducting policy and legislative research and analysis to support ACS CAN's advocacy agenda. She oversaw and guided a project to reduce barriers to cancer clinical trial enrollment for patients and utilized her scientific background to help develop regulatory facing projects.   
As a childhood cancer survivor, Brittany is actively involved as a patient research advocate with multiple organizations, including the National Cancer Institute (NCI) as a member of the NCI Council of Research Advocates (NCRA) and NCI Technology Research Advocacy Partnership (NTRAP). She has spoken nationally as a patient research advocate, as well as on Capitol Hill to advance cancer research.
Brittany received her PhD in molecular biology and genetics from Johns Hopkins University School of Medicine and dual BS degrees in biochemistry and genetics from Clemson University.